.
A TRUE STORY
San Francisco, 1974
.
My first SF apartment was on Union Street, near Octavia, in an area known as "Cow Hollow."
In this picture of my '65 Volvo (taken from my living room window), you'll notice the open garage doors.
.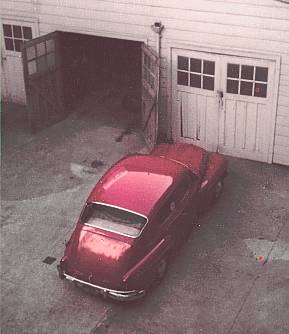 .
An elderly fellow kept his nice, late '50s Mercedes Benz in there - not unlike this '57 190.
.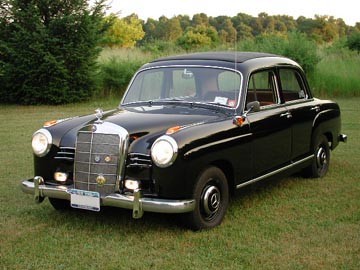 .
One day I observed the car's owner (I'll call him Mr. M) arriving at his garage to find an unauthorized car blocking his access to it. Now, this was not an unusual situation
for those who used those garages as "legal" parking in that area was almost impossible to find at times (it was a very busy neighborhood of shops and restaurants).
.
On this particular occasion the guy must have snapped. I watched as he got a screwdriver (or an ice pick) out of his car, and proceed to puncture and flatten both of
the right side tires on the offending vehicle. He then drove off, probably to look for parking somewhere else. A short while later a young woman showed up, got into
the car with the flattened tires, and drove away. (She certainly couldn't have gone too far before discovering her problem, but how she dealt with it I cannot say.)
.
Now, as a rule, when Mr. M took his car out of the garage, he would close the doors, leaving his unlocked padlock hanging from its hasp. Soon after the above
incident took place, I went downstairs and took a look at the padlock he used, a basic Master Lock variety. It just so happened that I had an identical lock. So,
the next time I was aware of his Benz being out of its garage, I went downstairs and replaced his lock with mine. Mr. M returned his car to the garage not too
long afterwards, closed the doors, and locked them...with my lock! I waited a short while, and then went downstairs with the key to my lock, and opened his
garage, where I proceeded to deflate all four tires on his Benz. (I didn't puncture them, I just removed the valve stems, thereby not doing much, if any real
harm to his tires.) I finished my "dastardly" task, closed the garage doors again, and re-locked them using Mr. M's lock.
.
Unfortunately, I wasn't around when Mr. M discovered his, er, predicament, but I think he may have carried the thought of that moment to his grave.

Ah, sweet revenge!

= The End =