Introducing...
~ Rev. Kolleen Wheeler ~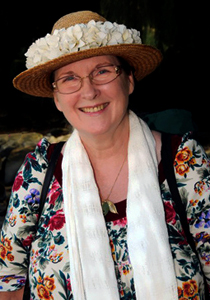 Rev. Kolleen was born in Seattle, Washington, the first of Cliff and Doris Flaherty's
two children. Although native to British Columbia (Canada), her family relocated to
Los Angeles, and later to Glendale, Calif, where Kolleen resided while attending
high school. She continued her formal education at Glendale College, L. A. Valley
College & Cal State Northridge during the late 60's. She eventually worked in the
Audio Visual departments at the L.A. Music Center and the Hollywood Bowl prior
to her 1971 move north, to Berkeley.
She met her future husband, Bruce, just after Christmas '75 (he was working in
the music business at the time, as Arista Records' Northern California marketing
and promotions manager). In mid-1976, not long after moving to San Francisco,
Kolleen returned to school, at S.F. State, where she majored in psychology and
art. She also worked part time in the Childrens' Psychiatric ward at U.C.'s S.F.
Medical Center, and at San Francisco's Presbyterian Medical Center, too.
The couple moved to Maui in early '83, and were wed in August of that year.
While they have no children, they presently have two delightful pussycats -
Mama GK (Ginger Kitty) and her hanai sister, the ever rascally BearKat.

In 1988 they launched their first "home-grown" Island enterprise, Angelica
Gift & Fruit Baskets. While that company developed into a successful and
rewarding enterprise, the excessive amount of time it required became a
burden to them. So, just before Christmas, 1999, they sold the company.
Throughout her adult life Kolleen has had an interest in major world religions.
As such, she's studied at great length the teachings of the best loved spiritual
masters, especially those of Jesus Christ and Buddha. These interests helped
with her decision to form All Ways Maui'd Weddings & Ceremonies in 1996.
With the sale of Angelica well behind, Kolleen was able to press forward
with her plans to make All Ways Maui'd one of Maui's foremost weddings
ministries. And, true to form, her goal has been realized...and then some!
With their spiritual and professional values meshing nicely, Kolleen & Bruce
look forward to further personal growth and fulfillment, choosing to live each
and every day, "...always with Aloha!"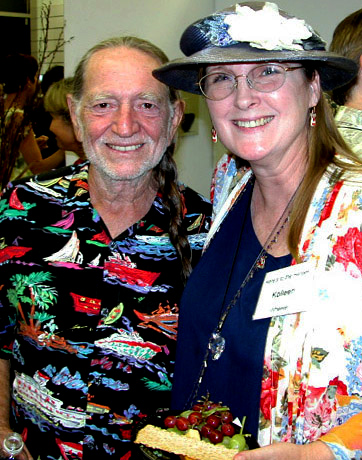 Willie & Kolleen - September 11, 2002


All Ways Maui'd Weddings & Ceremonies
Page Design, Seventh Wave PhotoGraphics
© 2001/2022 ~ Photos by Bruce Wheeler
Aloha!
`