OHIO and INDIANA
August 31 - September 7, 2004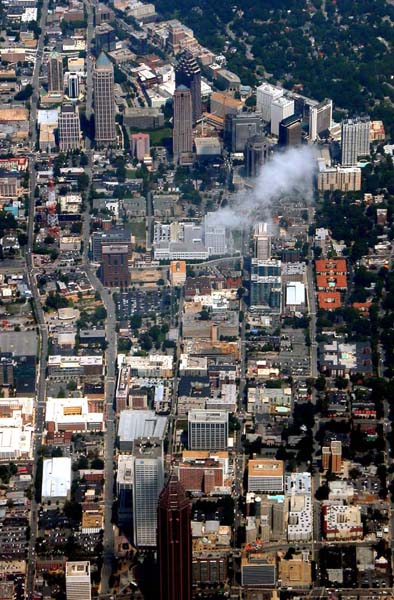 Cleveland? Not hardly - it's Atlanta, just
before another boring change of planes!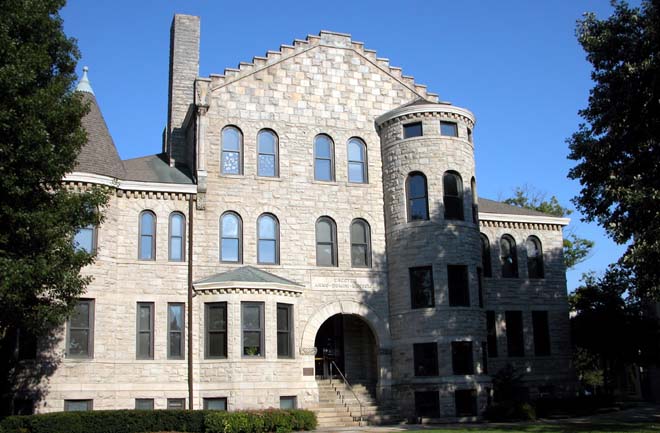 Wheeler Hall, on the beautiful Berea, Ohio campus of Baldwin-Wallace
College. Named for my great, great grandfather, Dr. John Wheeler,
Baldwin College's first president (awhile before it became B-W).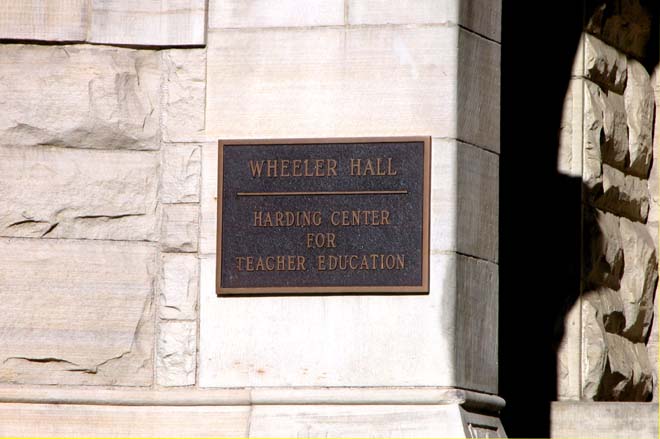 Hana hou ("do it again"), our second Hyundai Sonata rent-a-car!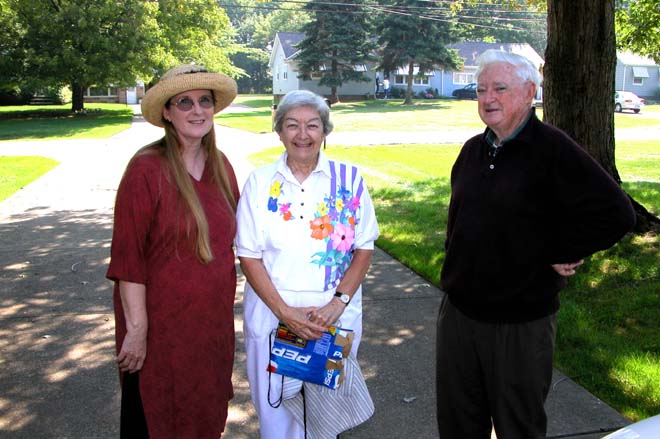 Kolleen with Norma & Jack Guyon, our delightful Cleveland-area hosts.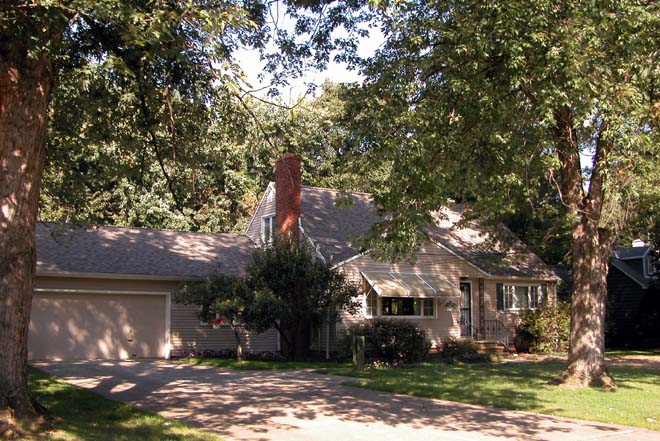 The Guyon's cozy suburban Richmond Heights home.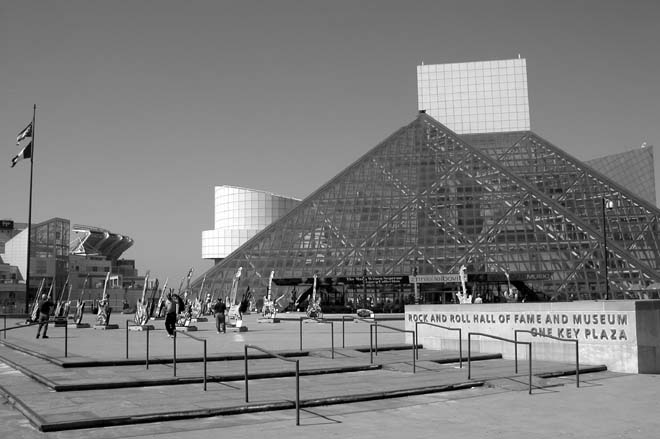 Why Cleveland? Must you ask?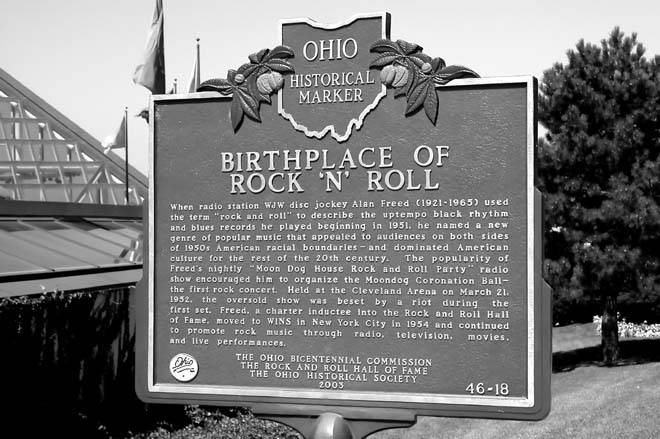 I guess you can't argue with the facts!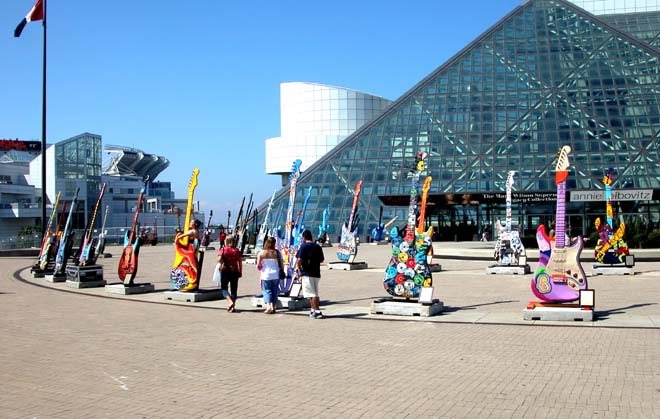 I. M. Pei's inspiring steel and glass pyramid reflects a stand of larger-than-life
Fender guitars in the Hall of Fame's plaza. (No photography was allowed inside.)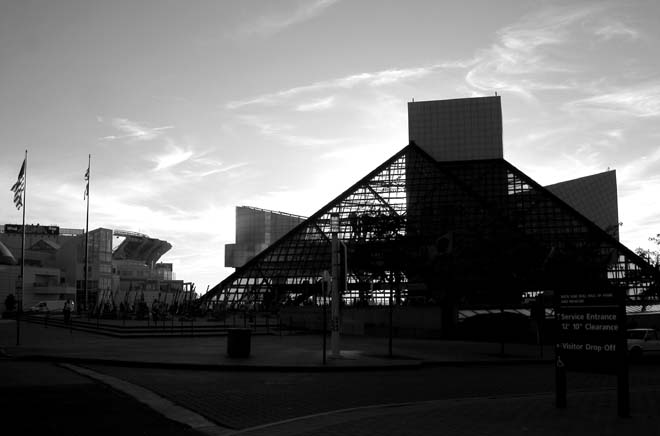 After seven hours in the museum, the sun shines on the far side of the building.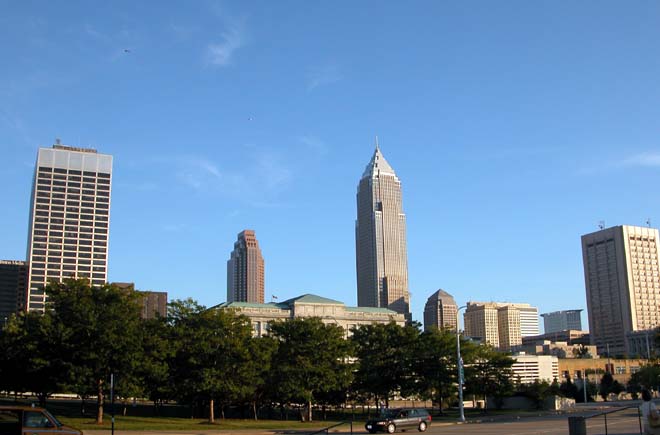 Exciting downtown Cleveland, bathed in late afternoon sun.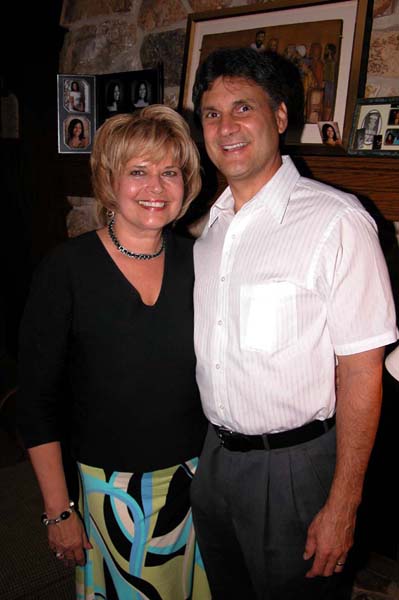 Chris & Nick Oleff. Chris' late brother, Scotty, was a very
close friend of ours who lived out his life in San Francisco.

Kolleen checks out some of the impressionists collection at the truly wonderful
Cleveland Museum of Art. (See, it wasn't all about rock 'n' roll!)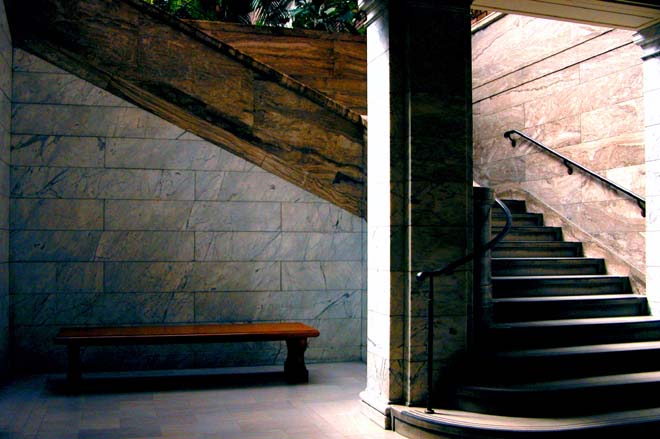 Style and function come together at the Cleveland Museum.

I forget the name of the building where I got this
shot, but it was a photo op I couldn't resist!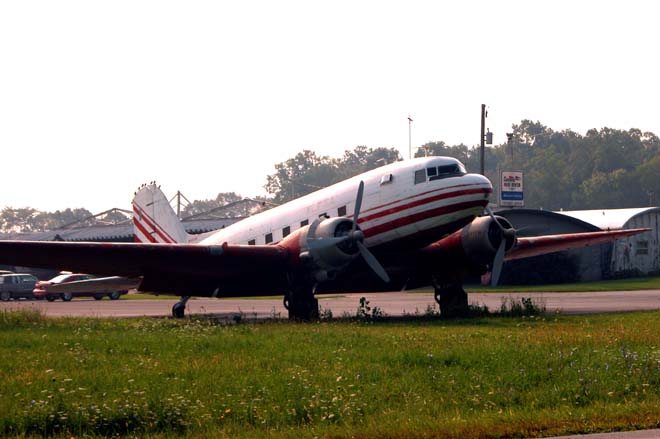 Near Findlay, Ohio, on our drive down to Indianapolis, we chanced upon this old
DC-3 parked at a roadside airfield. I love the birds on the plane's vertical fin!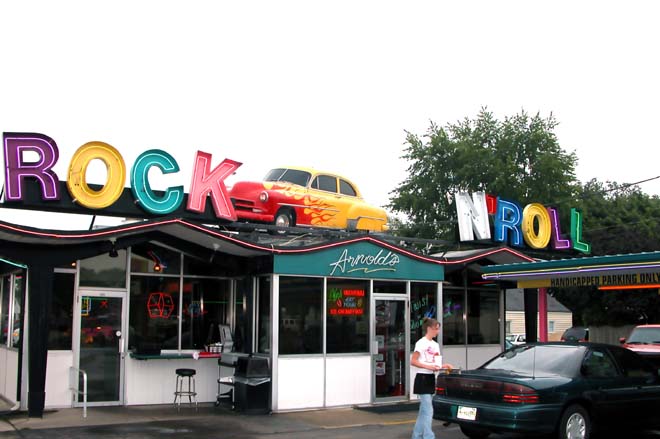 In Decatur, Indiana, we discovered the way cool Arnold's
Drive-In. "Best cheeseburger since I was in high school" I
exclaimed! (Wish I could ship this place back to Maui!)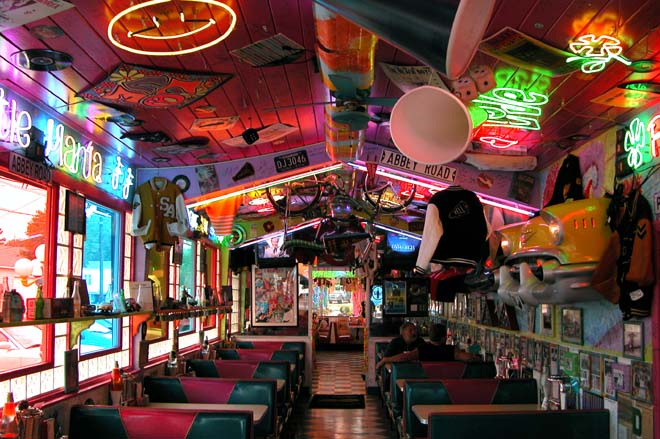 One of Arnold's ultra colorful dining rooms.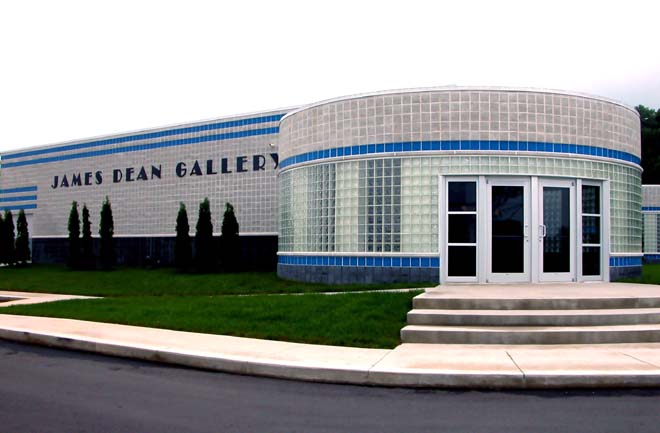 In Gas City, Indiana (yes, a real town!) we spent some time
exploring the brand new James Dean Gallery and Museum.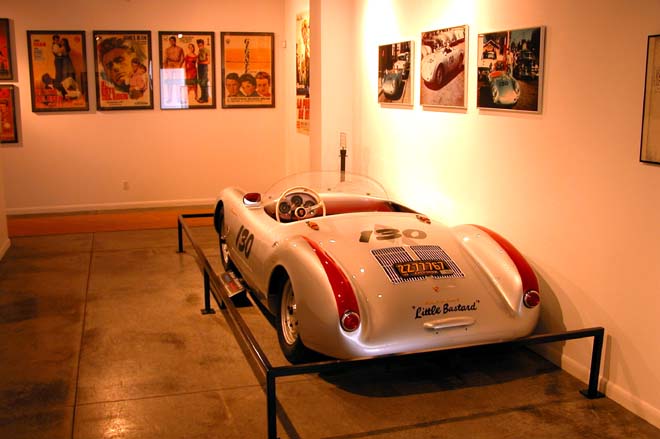 A replica of Dean's Porsche 550 RS Spyder, "Little Bastard," the same type of
car he was killed in on his way to a sports car race at Salinas, Calif. in 1955.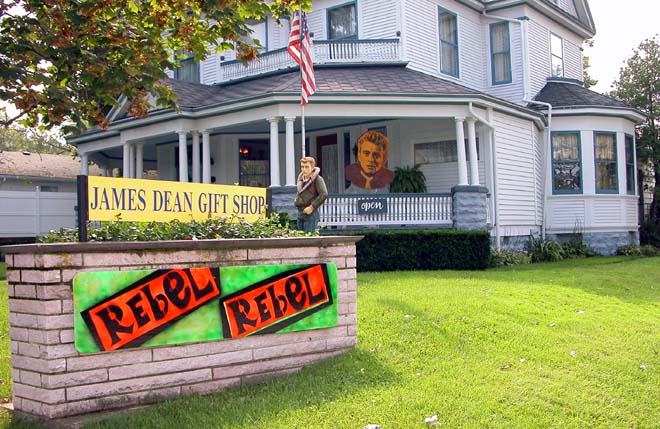 The "Rebel Rebel" gift shop, in Fairmount, Dean's hometown.
This old Victorian once housed the museum's entire collection.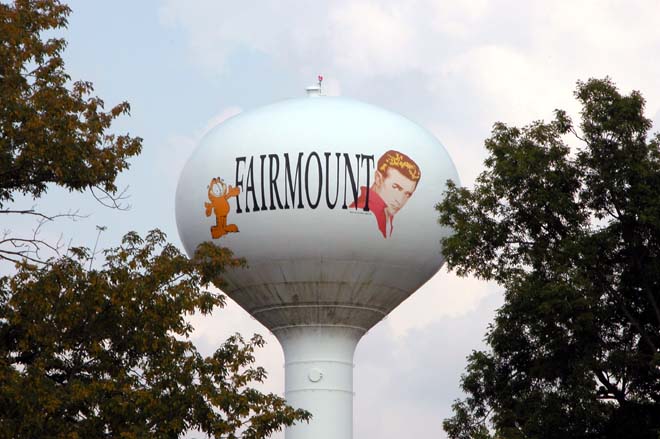 Charming Fairmount is also home to Garfield's "creator," Jim Davis.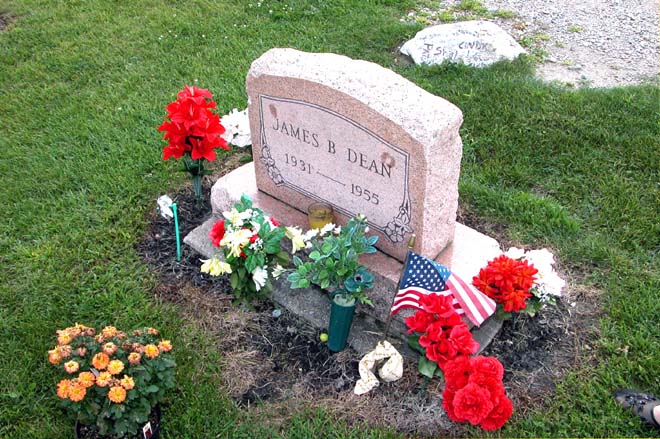 R.I.P. (Note the lipstick kisses on the gravestone.)

Dean's boyhood home, still owned by a family member.

Dean purchased a new Indian motorcycle here,
just before his move to Los Angeles in 1953.
.
Here's a web page with some of the pictures I took at the 50th U. S. Nationals
Drag Races at Indianapolis Raceway Park, the primary reason for our being in Indiana.
.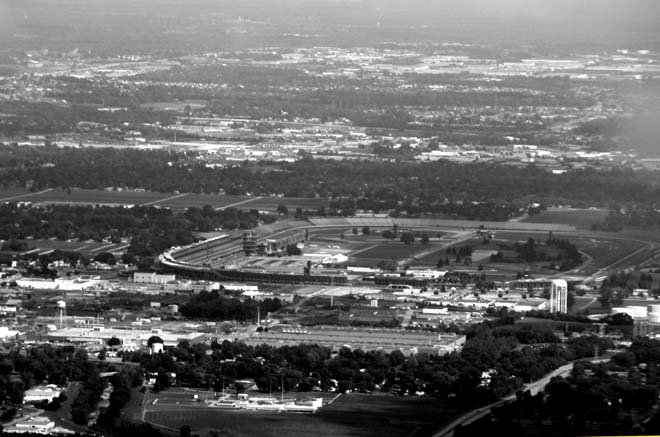 On our way to Providence, Rhode Island. That's the famed Indianapolis
Motor Speedway in the middle (not where the drag races were held).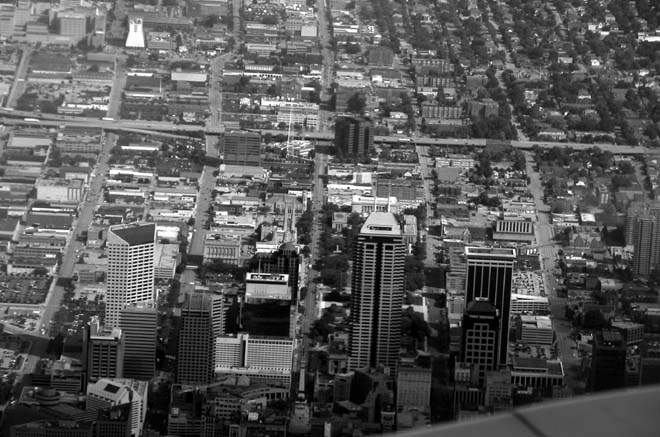 Downtown Indianapolis

Back to Bruce & Kolleen's Vacation Pictures Homepage
Photos by
Bruce Wheeler
(c) 2004
All shots taken with a Nikon Coolpix 5700