Introducing Bruce Wheeler
Cat Whisperer - Photographer
(a mini biography)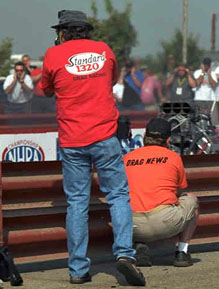 Bruce, standing, is seen photographing the racing action at the 2000
NHRA California Hot Rod Reunion, Famoso Raceway, Bakersfield.

Born in Miami, Florida in February, 1941, Bruce was raised in Chevy Chase, Maryland
and around the greater Washington, D.C. area. Within a year after his graduation from
high school, in 1960, he enlisted in the U.S. Air Force. Attaining the rank of Sergeant,
he was an airframe systems repairman on B-52 bombers and KC-135 in-flight tankers
while stationed at the now defunct Dow Air Force Base, near Bangor, Maine.
Upon leaving the service in December, 1965, Bruce continued to pursue his interest
in the sport of drag racing, a pastime he had taken up some years earlier (in 1957).
His paternal grandmother, Nellie Wheeler, passed away in late 1964, and with the
inheritance he received from her estate, he purchased the first of his two Wheeler
Dealer AA/Fuel Dragsters, in Nov, 1966. With professional drivers Al Friedman
(1967 Rookie of the Year) and "Bub" Reese driving for him, Bruce's cars
became crowd favorites on the East Coast fuel dragsters racing circuit.
Bruce subsequently "retired" from his pro drag racing career in mid 1969 - selling
his second Wheeler Dealer car along with all of its parts and equipment - with the
exception of the '67 Chevy Suburban push car which was converted into a camper
with four inches of foam rubber in the back for a mattress, and colorful
Indian print curtains hung in all of the rear windows.
Bruce was married in June of '68. He and his bride, Bobbie, spent the
better part of a two-months-long honeymoon trip traveling throughout
much of western Europe in a new, flower-bedecked VW 311 fastback.
In mid August of '69, Bruce and Bobbie attended the famed Woodstock Music Festival
in upstate New York, an event which brought about many changes in their lives.
After vacating the Northwest Washington apartment they were renting, in November
of '69, Bruce, Bobbie & their newly acquired dachshund puppy, Durgin, moved into
a quaint farmhouse in rural Northern Virginia, near the village of Delaplane, in the
foothills of the Blue Ridge Mountains some 55 miles west of downtown D.C.
Bruce remained down on the farm after he and Bobbie separated, in February, 1970.
In May he sustained moderate injuries in a freak motorcycle accident close to home.
After two long months of recovery, Bruce embarked on what he described at the time
as his Discover America Tour, heading in a westerly direction from his Virginia home,
in early July. This trip saw him and Durgin, his trusty sidekick, traveling through much
of the western US and British Columbia, Canada in the Suburban camper. Highlights
of the trip included visits to Taos, NM, Yellowstone Nat'l Park, Seattle, Vancouver
& Victoria, B.C., Portland, Oregon, San Francisco, Berkeley, Monterey, the greater
Los Angeles area, Las Vegas, Provo, UT and Aspen, Colorado. The long journey
finally concluded upon his return to his Virginia farmhouse in late October.
Within a month Bruce moved back to "The City", settling into a modest apartment
in Alexandria, Va., a place that was to be his final residence in the Washington area.
Not very long after selling his second dragster Bruce became involved with Washington's
growing hippie community, and this led to his association with a fledgling "underground"
newspaper, the Quicksilver Times.
As the de facto publisher of this publication, Bruce was able to use his various connections to
develop friendships within the local rock music scene. One such development led to his doing a
tour with Edgar Winter's popular "White Trash" band, as an aide to the group's road manager.
This eventually led to another roadie job with the eclectic East Coast group, SeaTrain,
in November, 1971. This association required a move north to the Boston area, where
the band was based. Bruce settled into a cozy 18th century cottage in an older section
of Marblehead, Mass. After a little less than a year with SeaTrain, Bruce left the group
and moved west to the "City by the Bay," San Francisco, in November, 1972.
Upon his arrival in the Bay Area, Bruce attempted to find other roadie gigs, preferably
with major bands, but nothing substantial materialized. In need of a steady paycheck,
he took a job with a local record store chain, Record Factory. While with that company
he became the manager of one of their downtown stores, eventually being "let go"
some three years later.
He then worked briefly for another Northern California record store chain, Odyssey
Records, and then as a merchandiser for a large indy record distributor. This led
to his being hired by a major New York-based music company, Arista Records, as
their No. California marketing and promotions manager. After six years with Arista,
the company made a decision to close their San Francisco office, and Bruce, along
with his girlfriend (soon-to-be second wife) Kolleen Flaherty, decided to move to
beautiful Maui, Hawai'i. They arrived on Maui's golden shores on March 15, 1983.
Bruce & Kolleen married on Friday, August 26, 1983 at the Wailuku Court House,
and on Saturday, the 27th, they celebrated their marriage with a Tibetan Buddhist
ceremony performed by the late Lama Tenzin of the Maui Dharma Center.
After working at several jobs each, the Wheelers launched their own company,
Angelica Gift & Fruit Baskets, in 1988. It was a business that they would be totally
consumed with until its eventual sale 11-years later, just before Christmas, 1999.
In June of 1996, Kolleen became an ordained minister which allowed her to form
her weddings ministry, All Ways Maui'd Weddings & Ceremonies, a short while
later. With the sale of the basket business concluded, Bruce launched the Seventh
Wave Emporium of Hawai'i, an online entity created to help market his extensive
collection of vintage rock music and 20th century pop collectibles.
With now-Reverend Kolleen's ministry beginning to show its potential, Bruce "volunteered"
to become the company's in-house photographer. Drawing upon his years of experience
as an award-winning photo hobbyist, Bruce was revitalized, and he promptly set about
making his Seventh Wave PhotoGraphics the success that it is today.
Bruce's drag racing endeavors were recognized in October of 2017 when he was inducted
into the East Coast Drag Racing Hall of Fame, at a ceremony in Henderson, North Carolina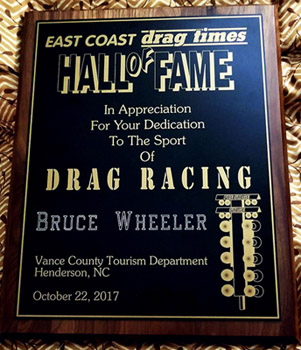 Page design:
Seventh Wave PhotoGraphics
Top photo courtesy of "Pete" Garramone,
(c) 2019 All Rights Reserved
- Page Revised 05.21.19 -