BRUCE'S "DAILY DRIVERS"
1941 ~ 2022
(Yikes! 81 years!)

.
My dad's '39 Ford Deluxe coupe, a very cool ride for a "square" guy! (He bought a new '41 Ford 4-dr after I was born, in February of that year.)
.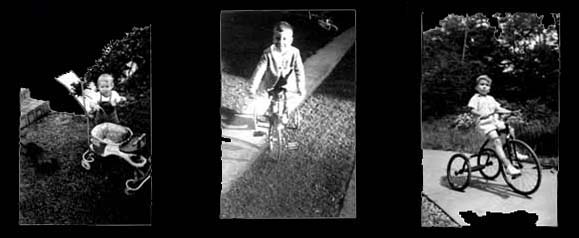 Various (very) early Wheeler wheels...
.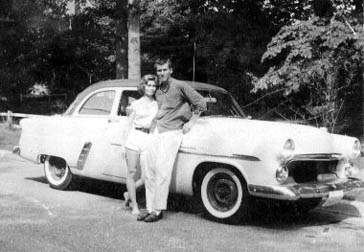 My first car, an ugly 2-tone green '52 Ford
Customline V8. (With girlfriend Carol, summer 1958.)
.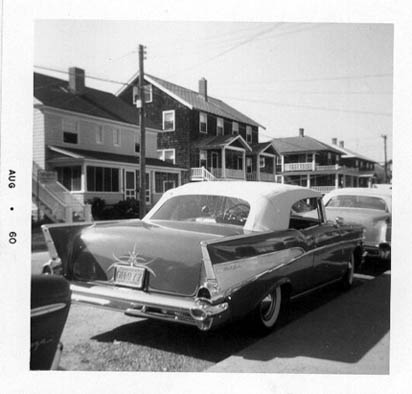 '57 Chevy Bel Air convert ( 270 HP 283)
Photo taken at Ocean City, Md.
.
.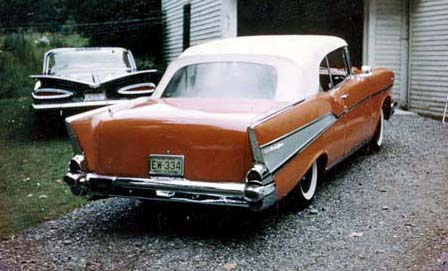 At "Ma" Lyon's house, Bangor, Maine. Summer of '62 (Mrs. Lyon was an elderly woman who sort of "adopted" a bunch of us Air Force gearheads, and treated us better than our own mothers at times. My pal Kirby's '59 Impala in the background.)
..
.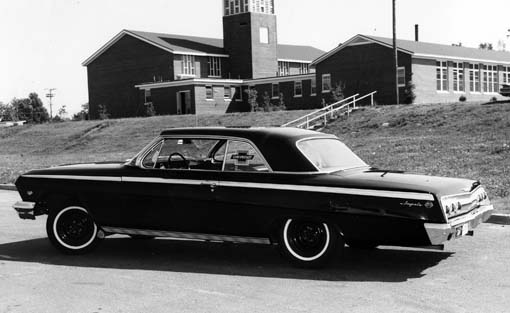 '62 Chevy Impala SS (300/327 4-speed, 4.11 Posi) I'd wanted a Bel Air "bubble top" 409 but none were to be found when I went shopping late in the model year. (Behind the chapel at the former Dow AFB, Maine, now Bangor Int'l Airport.) Roy Wells photo
.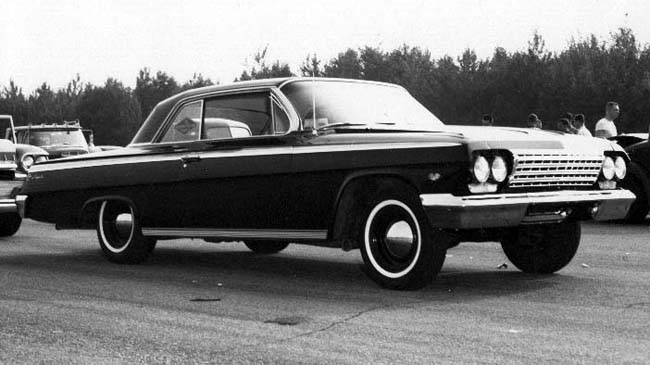 14.70's @ 99 MPH in the 1/4 (Atlas Bucron 8.50x14's, stock headers with dump tubes). Roy Wells photo
.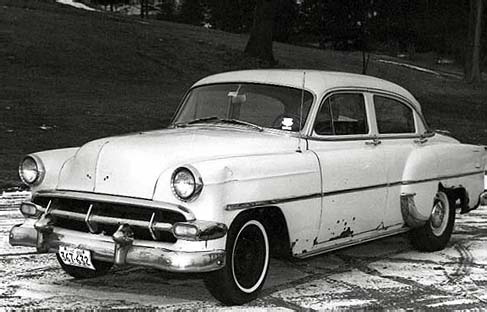 '54 Chevy 210 "rust bucket" (1962/63) Front wheels and
tires were from my Impala, in storage for the winter.
.
'64 Pontiac GTO 2-dr post coupe. (348 HP/389 V8) silver w/ red interior...a great car!!! (One just like it sold for $45K at a recent Barrett-Jackson auction!)
Roy Wells photo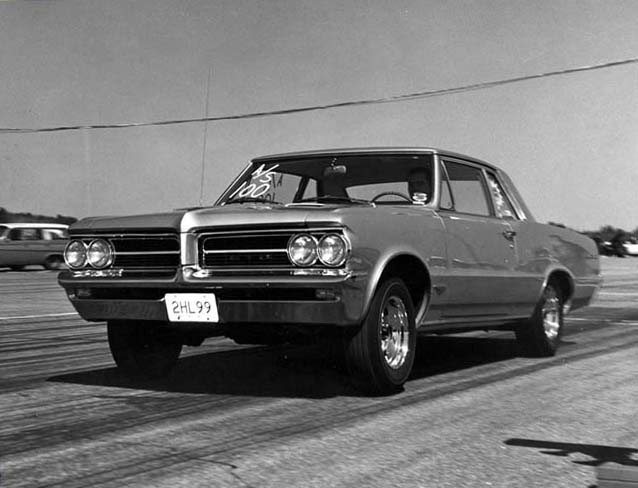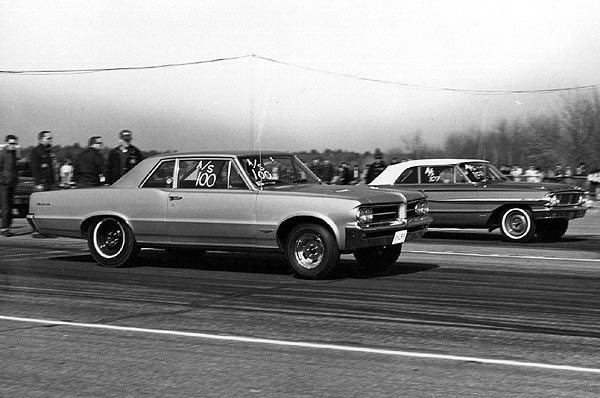 13.54 @ 105+ in the quarter and 23+ mpg on roadtrips! Roy Wells photo
.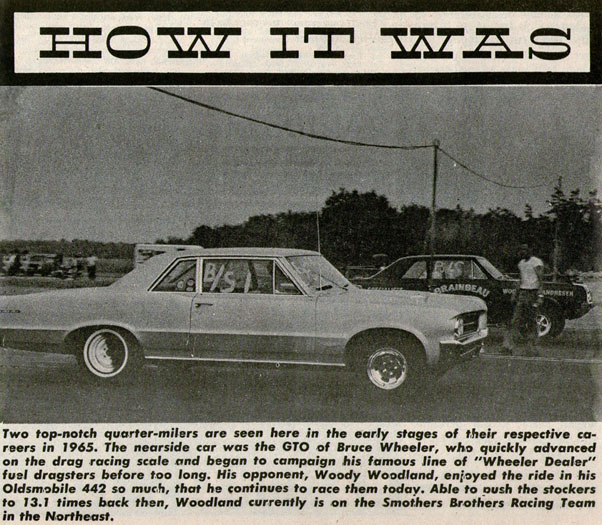 National Dragster
'67 Corvette Sting Ray (435/427 Big Block) It's not my car in this pic, but, except for the lack of a hardtop, it looks identical to the one I had. (I haven't any photos of mine, not one!) Anyway, and coincidentally, I took delivery of my 'Vette the day I purchased the Wheeler Dealer dragster. Price paid for the Corvette? $5500, the dragster; $7K. (It turned a 13.10 @ 110 on its only 1/4-mile pass...with recapped snow tires!!!)
.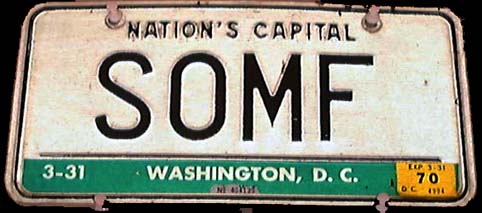 License plate from my Vette...if you don't know what it means, don't ask!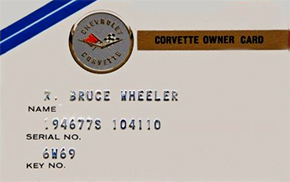 .
.

My '67 Chevy Suburban, originally the push truck for the Wheeler Dealer. After I quit racing, I turned it into a camper, and took it to the Woodstock music festival in '69. I also drove it across the western U.S. and Canada for three months the following summer.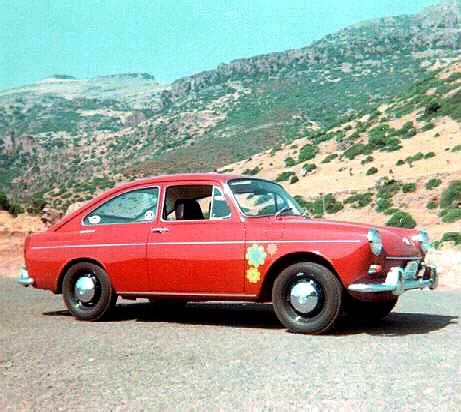 A US spec 1968 VW 311, delivered new that June in Nice, France, and driven for two months through much of western Europe - seen on the Mediterranean island of Sardinia in this picture.
.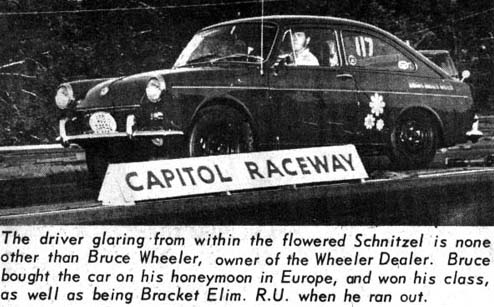 ..
'69 Kawasaki 500 H1 Mach III Not my bike in this pic, but it's close enough. Mine was totaled when I collided head-on with a neighbor's Ford Pinto on a mountain dirt road in rural Virginia, in May of '70. (Although quite battered, I was able to drive my car to a hospital.)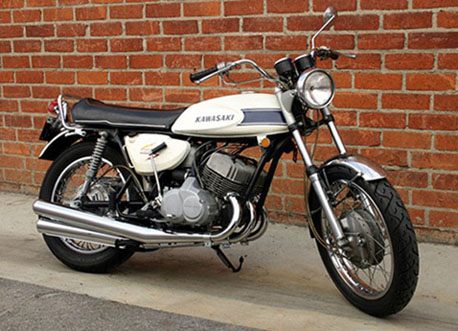 .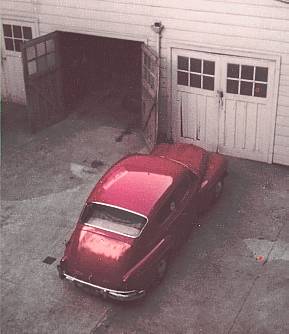 My first "San Francisco" car, a '65 Volvo 544 (As seen from my Union Street apartment window, 1974) Click on the picture for a funny anecdote!
After a drunk totaled the Volvo, I purchased this 1969 Toyota Corona from noted former Rolling Stone chief photographer, Baron Wolman. (Kolleen drove this car after we "moved in" together, and she was often my "plus one" on concert guest lists.)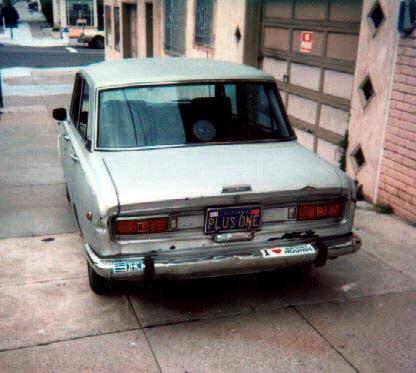 .
"Our" '78 Toyota Celica GT making a pass at Sears Point Raceway, Sonoma, Calif. This car came with us to Maui in '83, and we kept it until '91 when we purchased a new Mazda van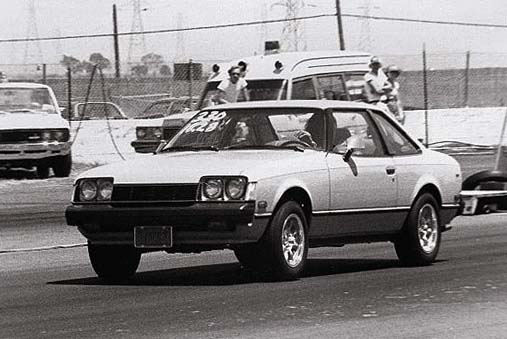 .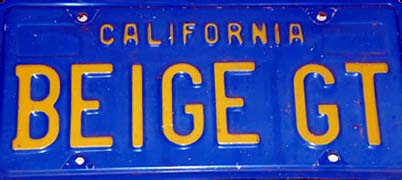 Funny story; this tag saved me from an expensive parking fine in San Francisco. The bust was really unfair, so I went to court to protest it. The clerk told me the ticket wasn't valid because in place of the tag number on the summons, there was only a "description of the car" - BEIGE GT! She tore the ticket up, and I walked away with a very BIG grin on my face! (I always thought this tag was very zen-like.)
.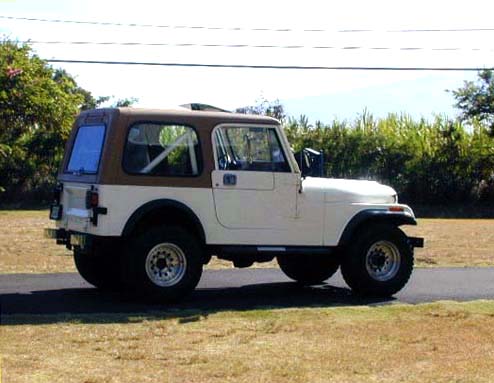 1986 Jeep CJ7, the last new AMC-built Jeep sold on Maui. We had it for nearly
15 years before selling it to a farmer in Kula (who only wanted it to drive
around his onion fields). It was a very nice Jeep up 'til then!
.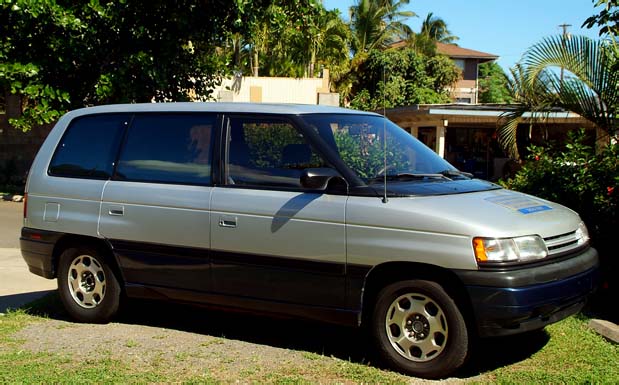 1991 Mazda MPV minivan, purchased new as a delivery vehicle for our fledgling gift
basket business. It had 232,000+ miles showing on the odometer at the time this pic
was taken. We finally junked it in mid-2009 (I won the Street Bracket category in it at
Maui Raceway Park, in Oct. of '91 - with nearly perfect lights and no wheel spin!)
.
.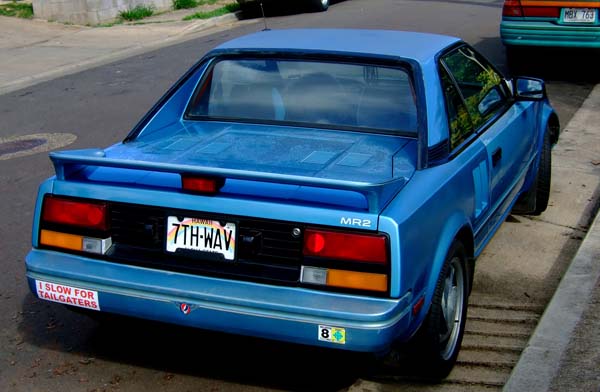 Without a much needed second car (after selling the CJ7), I bought this '86 Toyota MR2 on a whim, from a friend who was desperate to sell it just before his moving back to the Mainland. I had the car for over four years, and paid through the nose to keep it running that long!
.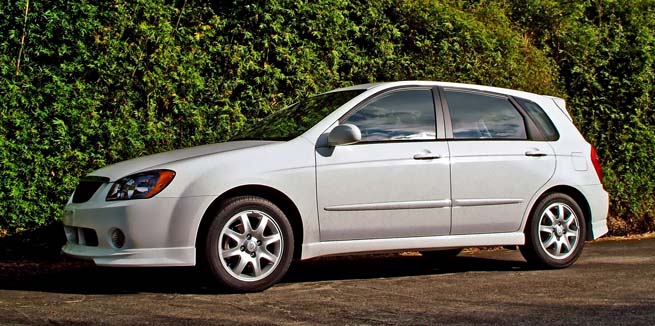 In need of a more trustworthy (air conditioned!) vehicle, we took this '06 KIA Spectra5nhatchback home with us in October, 2006. It was the Sports-Compact money winner at Maui Raceway Park on 11.14.08 (with steady 18-flat ET's @ 76+ MPH). Whoopee!
.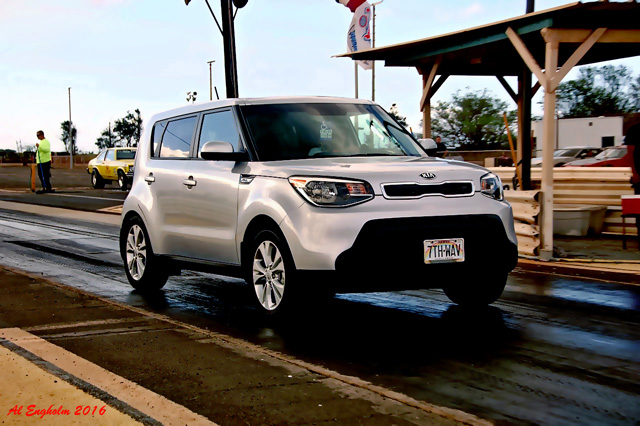 We wore the Spectra5 out, after 9-years/120K miles, and replaced it with a new KIA Soul in Sept. '15.
Picture taken at the April, 2016 drag races, I lost in Round 1 when I spun the tires.
..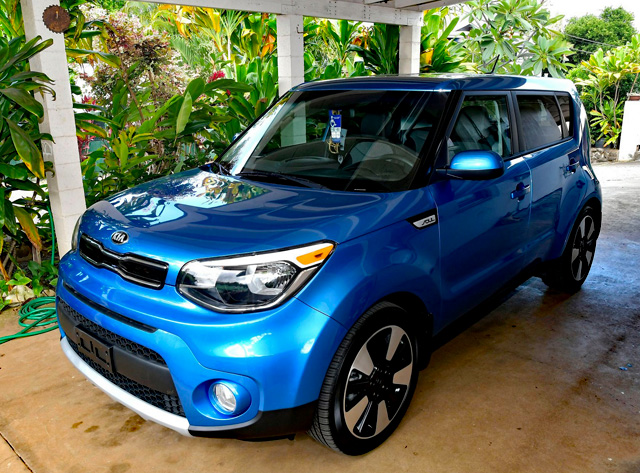 Our third KIA, this 2019 Soul+ has served us well. (Love the color!)
* * *
Back to the Wheeler Dealer Fuel Dragsters Main Page
.
Maui-Angels.Com
This page created January 17, 2007
All contents © 2022
A L O H A !