RHODE ISLAND and CONNECTICUT
September 7 ~ 10, 2004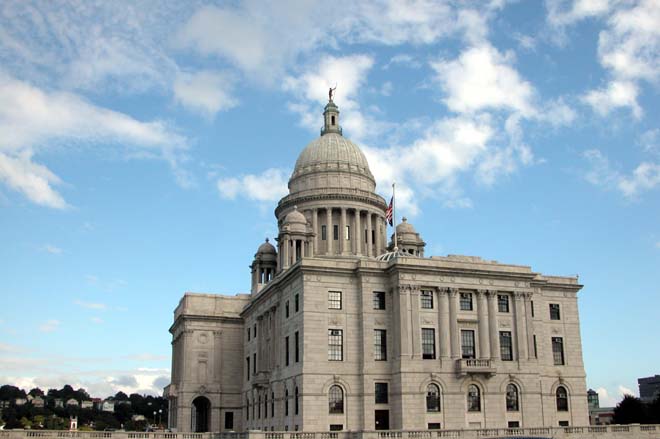 State Capitol, Providence, Rhode Island.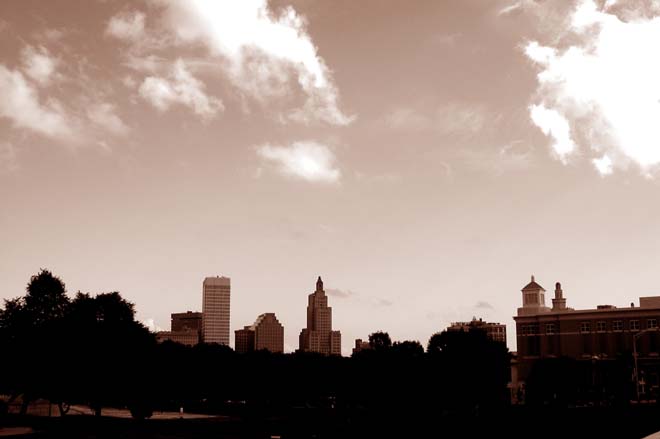 Downtown Providence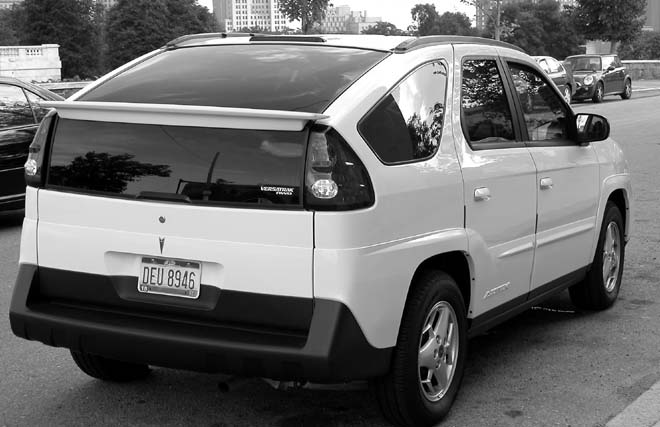 Our totally ugly Pontiac Aztek "thingy. Not only ugly but also very difficult to drive safely due, in
part, to absolutely lousy rear visibility. Perhaps one of the worst cars I've ever driven. (Ouch!)
(Author/Humorist Dave Barry used this photo in his 2006 book, Dave Barry's Money Secrets)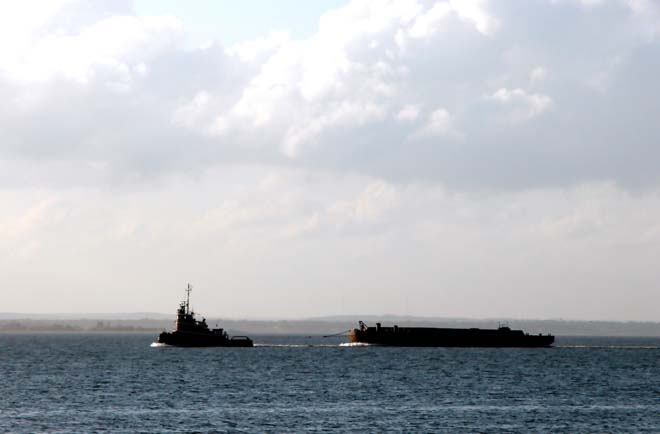 Narragansett Bay just before sunset.

Yankee friends, hot rodders Jeff & Judy Howe.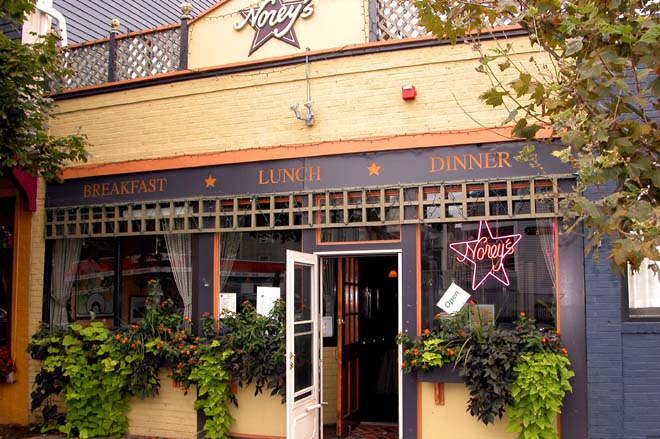 We had our most enjoyable breakfast at Norey's, in Newport, RI. (In fact,
it may very well have been our best breakfast ever. Simply outstanding!)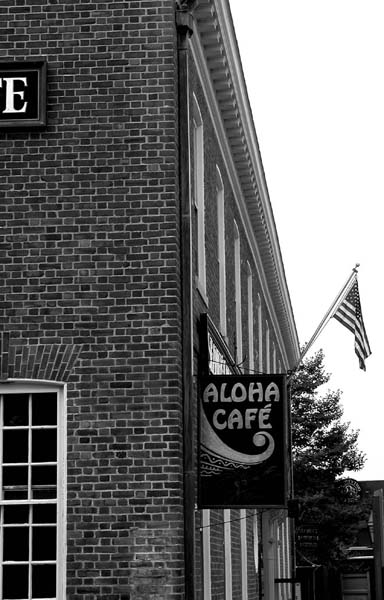 Did we take a wrong turn? A taste unusual for Rhode
Island (no pun). Didn't try it, but we were tempted.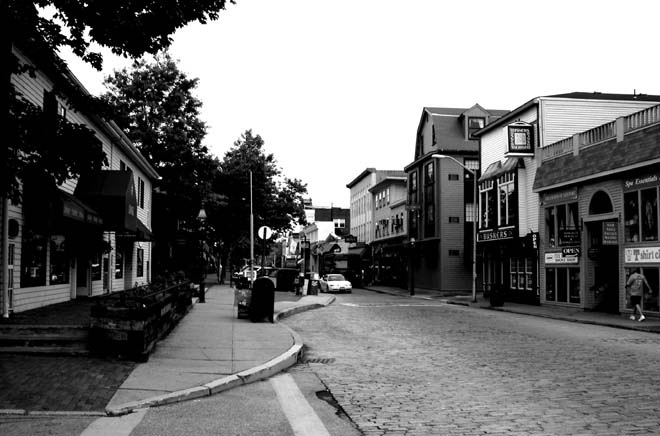 Harborfront Newport, short moments before getting a $15 parking ticket.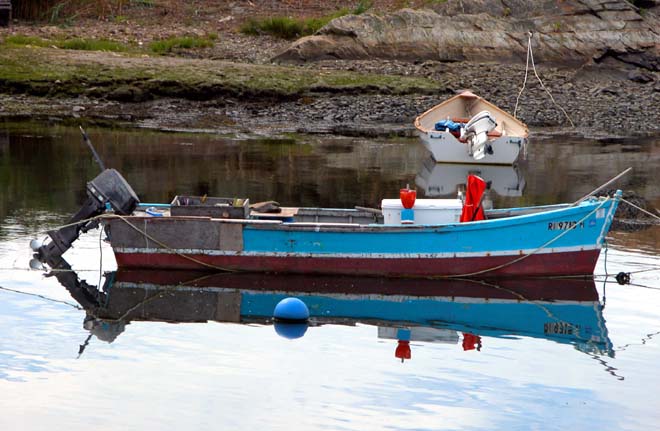 New England through and through!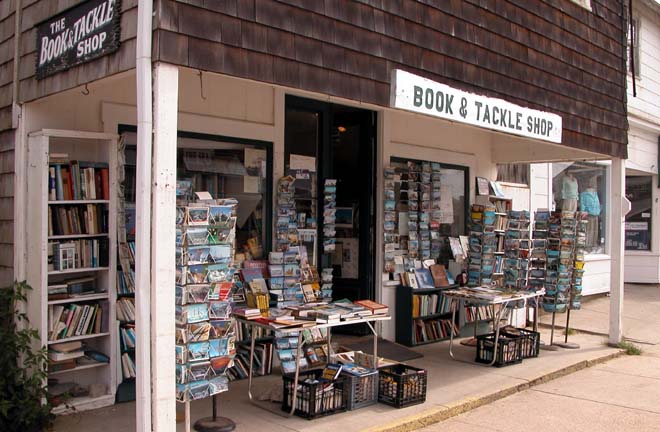 We found ourselves (and this shop) in Watch Hill, RI. My late Uncle Marshall lived in
this charming town for many years so I had to see it for myself. (Books and tackle?)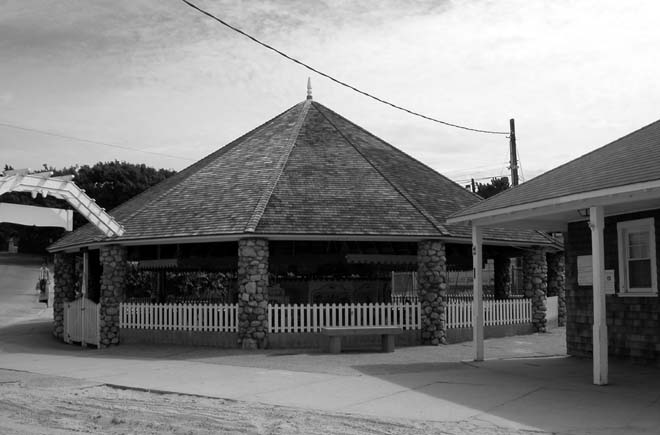 Also in Watch Hill, the country's second oldest carousel!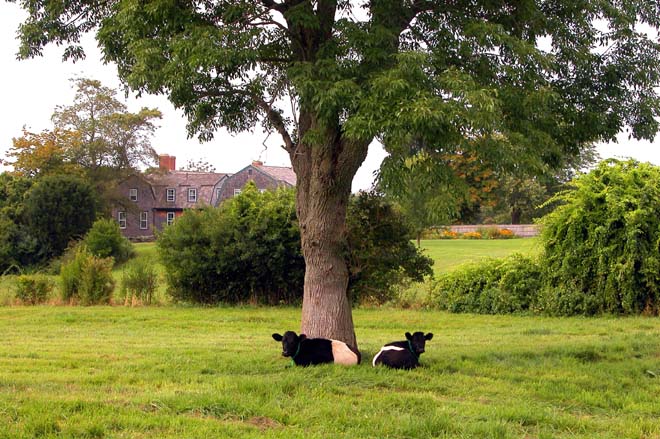 Just another "moo-ving" vacation picture.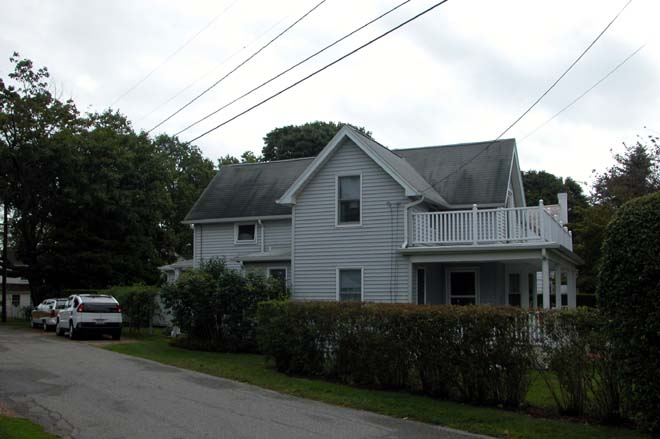 We're in lovely Old Black Point, Connecticut now. This house was my cousin Carol's, and her late husband
Bill's, summer retreat. They stayed here a good many Augusts & Septembers, mostly to avoid the oppressive
heat and humidity of their home in Tampa, Florida.

A very good way to enjoy the sights around Old Black Point...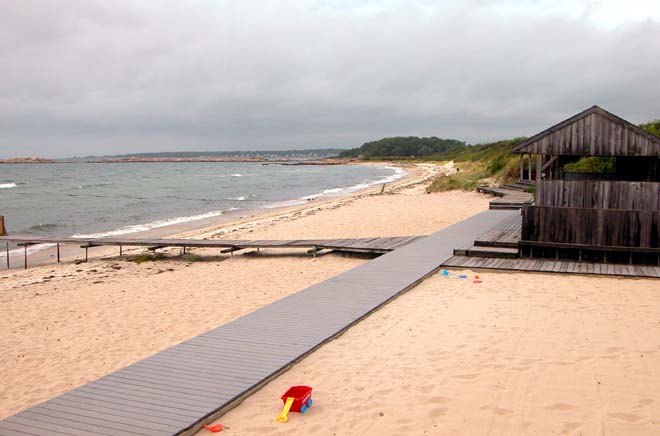 The beach at Black Point, just across Long Island Sound from "The Hamptons."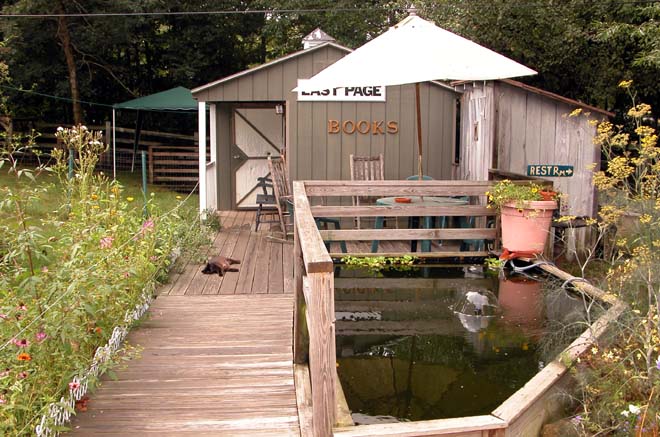 In nearby Niantic we visited a most incredible used book store, the Book Barn. This is
one of a number of buildings it utilizes, both large and small - each one fully crammed
with volumes from floor to ceiling. Kolleen thought she'd died and gone to book heaven!!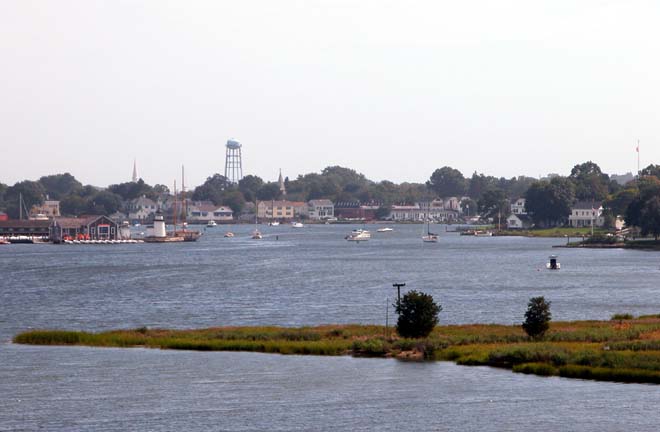 Scenic Mystic, Connecticut, home of the ever fascinating Mystic Seaport.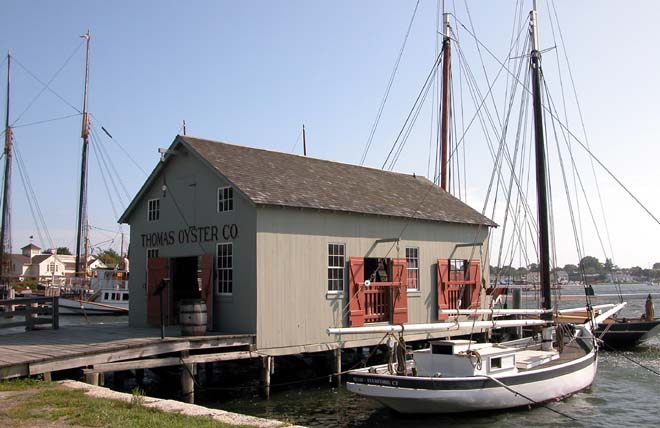 Mystic Seaport features a wide variety of "authentic" exhibits that thrill the senses!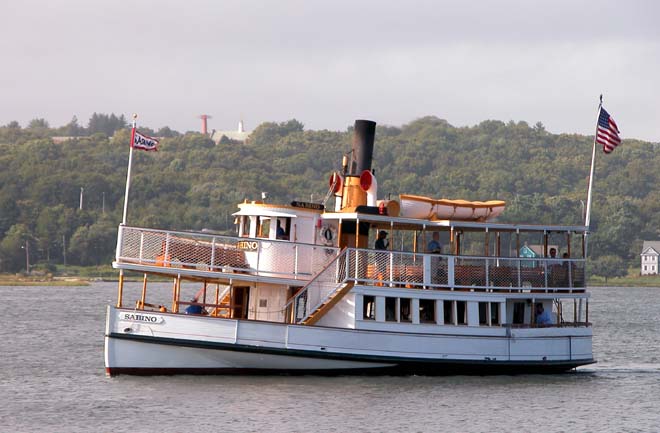 This relatively modern craft makes hourly trips around the Mystic Seaport harbor.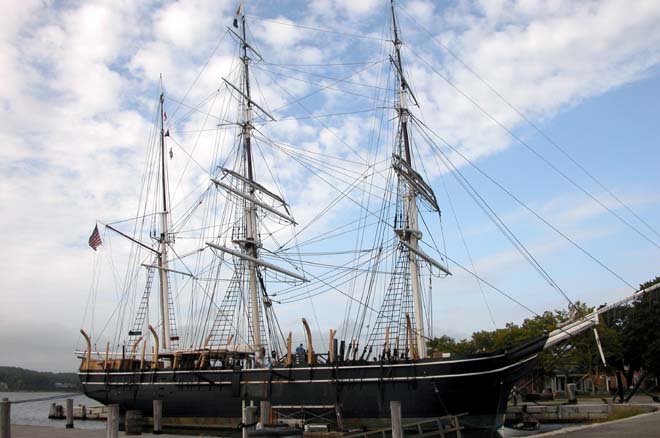 A "typical" whaler of the early 19th century, the same as those
frequently seen off Lahaina, Mowee, so long ago.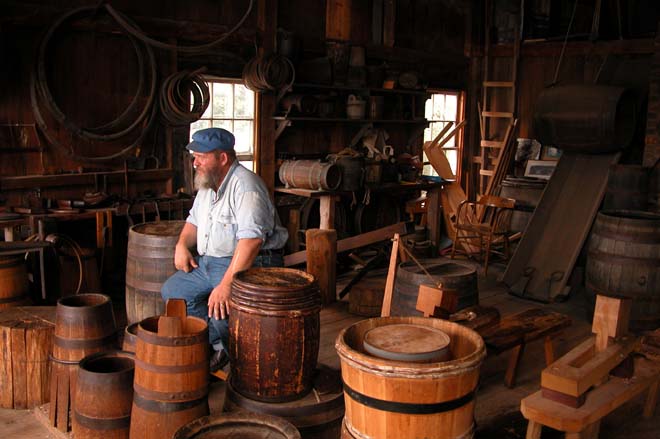 Mystic Seaport cleverly presents all aspects of 19th century nautical
trade. Here a barrel maker takes a breather at his shop.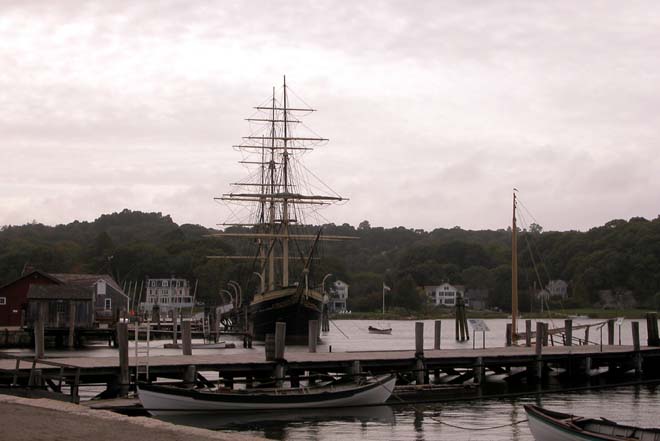 "The very sight of a tall ship does much to quicken one's pulse!"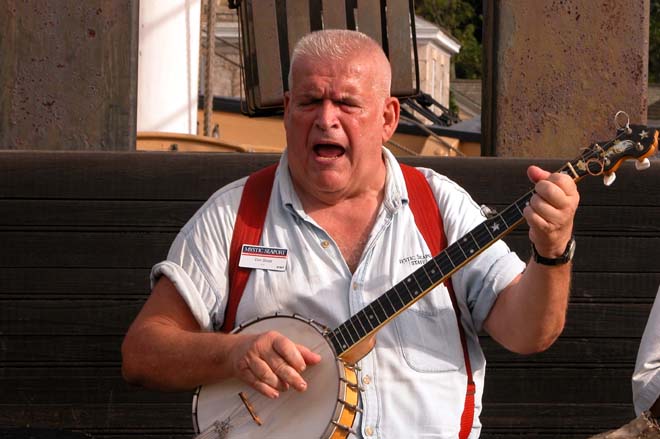 Don Sineti is a true master of old sea shanties. In my honor, he did a rousing
rendition of a traditional tune about whalers heading down to "old Mowee."

This collection of wonderful ships' figureheads
was one of Kolleen's favorite exhibits.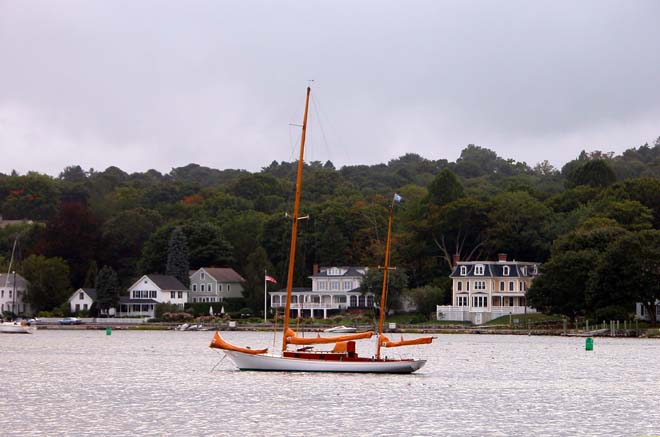 Be still, my heart!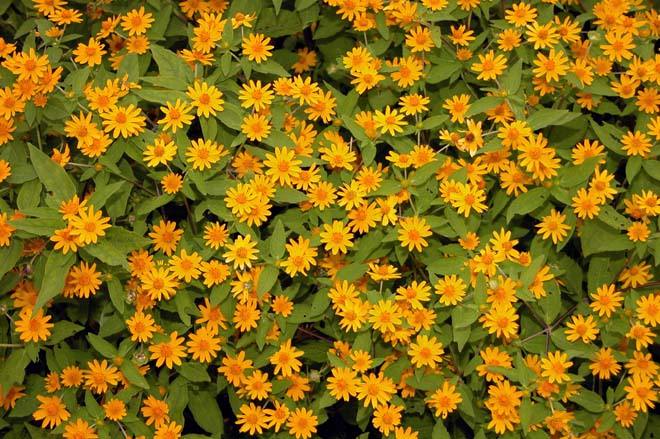 Flower power!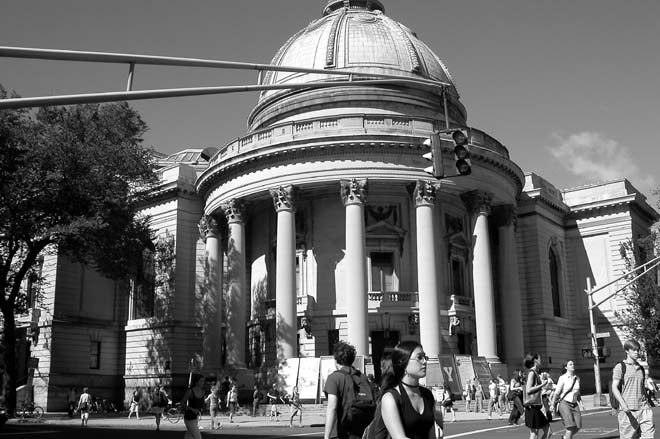 A brief stop at the New Haven campus of Yale University, on our way to NYC.
Back to the Bruce & Kolleen's Vacation Pictures homepage...
All photos by
Bruce Wheeler
(c) 2004
All shots taken with a Nikon Coolpix 5700