"Letters of Aloha"
.
Here is a nice sampling of fan mail we've received from
some truly wonderful former clients and new-found friends!
.
Follow this link to our old Maui-Angels.Com Guest Book to see what a good many other folks also had to say.
[ The company that hosted the "book" shut it down when they changed corporate direction. ]
.

---
To Whom it May Concern:
It gives me a great deal of pleasure to write this letter of professional and personal recommendation for Reverend Kolleen Wheeler. Reverend Wheeler worked with me at the Kea Lani Hotel as the officiant for our Wedding Vow Renewals (program) from October, 1996 through January, 1998. During this time Reverend Wheeler exhibited the utmost in professionalism, but, more importantly, her genuine warmth and the love she brings to her avocation is something that can only be experienced to appreciate. She created a beautiful ceremony and brought sincerity and a true sense of all that the word "Aloha" means here in Hawai'i. Each guest was made to feel special and each ceremony equally so. The vow renewal evening was always a highlight of these guests' stay, as well as family members who may have shared in these moments. Reverend Wheeler's commitment to this very special work is rare and irreplaceable. Sincerely, Sandra Barry, Former Chef Concierge - Fairmount Kea Lani Hotel, Wailea, Maui
---
Aloha Kolleen – Thank you again for the beautiful wedding (you performed)! Suzann Hudson, Coordinator, Hideaway in Paradize Weddings
Dear Rev. Kolleen
How could we, "every one of us", begin to tell you how beautiful and special our ceremony was to our family, especially to Dave and I! The renewal of vows is so meaningful and reinstates our love and respect for one another. Our lives have been so very blessed and we have God to thank for this wonderful union. A special thank you for your part and being with our family to share our moment! Thank you with all our hearts! Darla & Dave B., Sacramento, CA ~ 30th Anniversary Renewal of Vows Ceremony
Dear Rev. Kolleen,
Aloha! As we sit here with the wind-chill at minus 20 degrees, we are reminiscing about our beautiful wedding in Maui. It truly was a dream come true! Everything about it was perfect. Thank you for all your help and for performing a truly special ceremony. Our pictures and video came out awesome!! I have had more people tell me that it was the most beautiful wedding they have ever seen! We think so too! Thank you for helping us make our dream come true. We have our ti leaf above our door…and many, many fond memories of a beautiful time in Maui and Kauai.
Aloha, Mel & Philip, Wethersfield, CT ~ Wedding Ceremony
Dearest Kolleen,
Attila and I would like to thank you once again for our beautiful ceremony. It was all I wanted and dreamed of. That night will always remain sweetly in mine and Attila's heart and memories. Our love and much Aloha, Attila & Linda, Elmwood Park, NJ
Dear Rev. Kolleen,
Thank you so very much for all you've done to help us plan for our renewal of vows. You have been wonderful and a real joy to talk with. We will always remember your kindness. Alan & Becky, Fairport, NY ~~ 25th Wedding Anniversary Renewal Ceremony
Dear Rev. Kolleen,
Such a feeling of joy and Love has touched our hearts. Thank you—we loved every aspect of our wedding, Mariana & Michael, San Diego, CA
Dear Rev. Kolleen,
We want to thank you for the lovely wedding ceremony. We will never forget it. It was very hard to leave Maui and we are already planning out next visit. Please keep sending your newsletters. Thanks again for everything, Rick & Laurie, Omaha, NE
Aloha Rev. Kolleen,
Mahalo nui loa! The service was beautiful! Mahalo again for making this a wedding to cherish! God Bless! Love, Jimmy & Rena, Ironwood, MI
Hi Kolleen and Bruce,
I just wanted to thank you again for such a wonderful ceremony. Everything was perfect, and the tape came out great. We have been talking about it continuously since that day. The dinner (at SeaWatch) was great and everything we had was terrific. Next time we visit we would like to have dinner with you there. We have been depressed ever since we got home. We love Maui! Kind regards, Leo Giglio
Dear Rev. Kolleen,
We want to thank you for the best time of our lives! You more than exceeded our expectations. Thank You so much for the referrals, the "Hawaiian hospitality" and the most wonderful wedding I could've imagined. I also believe that everyone that was involved experienced a little paradise of their own. You made everything happen for us and you, Rev. Kolleen, will be remembered in our lives forever. I (We) promise to keep in touch with you. We will be in Maui in Oct. 2001 at Sugar Beach. Hope to see you and your husband there. Aloha and Mahalo! Kristen & Rich Dobler, WA
Rev. Kolleen,
I'm sorry it has taken me this long to email you but since I have been back from vacation I've been really busy at work and at home. Travis and I just wanted to say thank you for making our wedding ceremony so special. You have such a sweet spirit and that put me at ease from the very beginning. What a wonderful job you have and the joy that you must receive from it. I hope you have a Merry Christmas and I am so glad that our paths have crossed. God Bless!! Sincerely, Sue Reed Greer
Dear Bruce and Rev. Kolleen,
Thank you very much for the email. The web site of Brad and Cathy's wedding pictures is absolutely fabulous and I have already printed some to be framed. I am so pleased. Thank you again for everything! Bonnie, Accent On Travel
Dear Rev. Kolleen,
Joanne and I wanted to take a few minutes out of our very happy life to say Thank You again for your wonderful blessings on December 14, 2000. We are living in Toronto, Canada and loving our life together. Everything is simply perfect and we are making arrangements to adopt a little baby. I promise to send pictures of both Joanne and myself on our wedding day, and pictures of our happy little family. You provided the most beautiful day in our lives, and we will always remember the magnificent view at Po'olenalena Beach in Maui. We have been truly blessed. Aloha, Joanne & Natalie Lamar
Hello Rev. Kolleen,
I just want to thank you again for the beautiful ceremony you did for David and me. Also, thank you for all the help you gave to us. Bruce and yourself went way over, more then we could have expected on our limited budget, to give us a memorable wedding (and) for this we thank you. David & Lisa Waldman, California
Hello Kolleen -
Just a quick note to say hello - hope all is well with you! I wanted to relay all the wonderful comments we have had since returning home - everyone who attended said it was one of the most beautiful and meaningful weddings they have ever been to!!! Thank you again for helping to make it such a perfect and wonderful day -- it truly was the wedding of our dreams!! Married life is truly wonderful, there is a deeper bond and connection that I wasn't anticipating since Steve and I have been together so long. We hope to start a family soon, maybe a christening in Maui? (I wish!!) Take care, Paula Mendes Oro
Dear Cary (a friend) and our Maui Angels,
Without you, this 1st year wouldn't be the same. As we celebrate tonight, we have thought a lot about you. We looked at our beautiful pictures, thanks to Bruce. We looked through our box of special-ness, thanks to Cary. And last but not least, we are going to read our wedding vows, thanks to Rev. Kolleen. This first year has been the best year of our lives. Thanks for sending us on the right path. We are very grateful to all three of our Maui Angels. Forever and ever, amen. Love, Denise & AJ – Arizona (First Year Anniversary)
Dear Rev. Kolleen,
Just a little note to say thank you to you and Bruce for helping to make our time in Hawai'i a truly memorable experience. The ceremony was just as I hoped and it was so nice of you to take us on a little tour also. I'm so glad we found you on the internet. The rest of the trip was equally as wonderful. We'll never forget this anniversary vacation. Sincerely, Jim & Athena Sampson
Dear Bruce and Kolleen,
We just received our wedding pictures and we are overjoyed! We couldn't have even imagined that the beauty of the moment could be so exquisitely captured in a photograph! But then, we didn't know Bruce! You rock, man! We were anxious to get the pictures to see if they reflected what we felt at our ceremony. We were not the spectators, so we couldn't envision the gestalt of the day. Thank you for encapsulating the magic for us. Our "once in a lifetime love" was celebrated in a "once in a lifetime" ceremony. We are forever grateful to you, Kolleen, for your spiritual guidance and to you, Bruce, for preserving the memory in pictures and forever in our hearts. Love, Karen & Bob Bill - Phoenix, Arizona
Aloha Rev. Kolleen and Bruce,
How fortunate we are to have found you! From your Maui-Angels web site, we expected the wedding to fulfill our needs. The actual event went far beyond our expectations. As Cindy Paulos remarked, after we thanked her for recommending you, "It was meant to be." What a comfort to come to Maui, Kolleen, knowing you had taken care of all the details for the ceremony. Every aspect was well prepared and organized. We appreciated previewing the various ceremony texts. Your words are beautifully written and filled with meaning and symbolism. Their deep spiritual nature coupled with Hawaiian traditions touched our hearts and souls. We will forever treasure the copy of the service and the lovely marriage certificate. Bruce, your conch shell blowing lent a special touch. The many pictures you took of our ceremony told our story, and we are delighted with your creative ideas for "after the ceremony" photos. We also appreciate both of your recommendations for restaurants and events. They proved to be the best we experienced. Everyone involved showed us so much warmth and affection that we were totally relaxed for the ceremony. We appreciate the obvious joy and enthusiasm displayed and your respect for our very tender moments. We are grateful for the epiphany experience that we'll remember forever. Mahalo! Dianne & Bob Elton - Tucson, AZ
And, finally, the "testimonial of all testimonials" . . . (thank you Alan!)
To whom it may concern:
Congratulations on your upcoming wedding. My name is AlanBubb and in May of 1999 my wife Becky and I traveled to Maui in celebration of our 25th wedding anniversary. As we made plans we both agreed that we wanted to renew our marriage commitment to each other, on a beach, on our anniversary day, and at the same time that we were originally married. Because our faith has been important in our lives and in the way we raised our children, we also wanted the ceremony to include a religious aspect and prayers from our original wedding ceremony. Through the Internet, I came in contact with Rev. Kolleen. Here we were from Rochester, New York, traveling to Hawai'i and how could we ever find someone to meet our requirements for a meaningful vow renewal ceremony? We're sure that God guided our hand to Kolleen. From the moment I first talked to her by e-mail and on the phone, I knew that she was exactly what we were looking for. She was kind, caring, thoughtful and attentive to our every need. I remember appreciating the helpful suggestions that she made to include certain things into the ceremony. She faxed us a sample ceremony and my wife and I made choices and added in our own personal prayers. She immediately responded back to us every time that we contacted her. Kolleen is a very relaxed person and was extremely flexible with the arrangements. She offered my wife and I a choice of spots to hold the ceremony (including any that we found on our own) and we looked at them once we arrived in Hawai'i. So it wasn't until a day or so before the ceremony that we actually chose Ironwood Beach - but that was OK with Kolleen. I suspect, like us, that you will find that Kolleen is more than the person who officiates at your wedding ceremony. From the first time that we talked to her, and certainly after we met her, she was more like a friend, especially in the way she cared so much to make every aspect of our ceremony special. And that she did. The ceremony on the beach was something that we'll never forget and the traditional Hawaiian aspects that Kolleen included just made it more beautiful. Although I'm sure that she's done many such ceremonies, she made us feel that ours was the most important one that she had ever done - she was that caring and concerned about us. Unfortunately we didn't get to meet Bruce - although we hope to someday - but the day after our ceremony he dropped of a written copy of the ceremony at our hotel. It's been almost two years since our ceremony was held, and in hindsight, we can't think of a single thing that we would have done differently. We are sure that Kolleen was a most important part in helping to make our ceremony remarkable and in making the wonderful memories that we will cherish forever. I gladly recommend her services to you and anyone, including all my friends and family. Please feel free to contact us again if you have any additional questions. Best of luck to you both for a long and happy life together.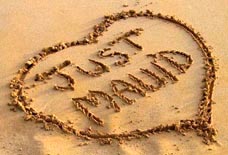 All Ways Maui'd Weddings, Ceremonies & Photography
"We love what we do, we know you will, too!"
Post Office Box 817 - Pu'unene, Maui, Hawai'i 96784-0817
.
Call or eMail Us!
© 2014