.
Seventh Wave PhotoGraphics
"Frequently Asked Questions"
.

1. "Why are your prices so much lower than those of your competitors?" There are a number of reasons. Mostly because my operating overhead is relatively low and I usually do a "very comfortable" volume of business (as I frequently work with my wife's popular All Ways Maui'd Weddings company). I've also streamlined my "post-photography" procedures so that the overall amount of time spent on a given project is minimal, and, as they say, "time is money." I also don't have a staff to pay, nor a "hungry" webmaster to make frequent changes to a "fancy" web site. While I firmly believe that my photography is easily as good as anyone's, I really don't have the desire to be so "extreme" with my pricing - to me, what's fair is fair.
.
2. "We only want a few pictures. Your digital wedding photography apparently provides for a great many images. Can we pay a lesser price for many fewer pictures?" My fees are based more on the amount of time I spend on a job, and not how many pictures I take. I usually shoot as many pictures as I can while we're together, so 200 or more shots is not unusual. However, I may also take fewer shots - it's always dependent on prevailing circumstances at the time of your ceremony, such as extreme weather (for example). (Please understand that not all of the shots I'll get are of your ceremony or the formally posed ones alone. Quite a few of them are candids of you and your guests, plus closeups of bridal flowers, hair styles and a lot of other "details," those special pictures that will surely compliment the many ceremony and posed shots that I'll be taking.)
.
3. "How, and how soon can we get our pictures?" If you cannot pick up your photo DVD directly from me at my office within five business days of your session, it will be sent to you ASAP via First Class Mail, at no additional charge to U.S. addresses - $5.00 to Canada, and somewhat more to all other countries. However, if you can pick up your disc at my office, we can talk about it at the time.
.
4. "How will our photographs look when enlarged?" Great! My digital images will print out very nicely at 8x12, 12x18 and up to as large as 16x20 with virtually no loss of quality, if any. (I would suggest that you get all larger sizes - 8x12 and up - printed on high quality [flat] matte photo paper if possible - they'll look very classy that way. However, you'll probably have to get this done at a pro photo lab or a reputable photo studio doing business in the area where you live.)
.
5. "I arranged for you to photograph my ceremony via another company. This other company charged me much more than what I later found out you would have charged me if I'd booked directly with you. Why is this?" There are a number of different "outside" wedding planners and coordinators who book my photography services (for their clients) on a regular basis. Unfortunately, I have no control over what they, in turn, charge folks. Thank you very much for your understanding in this regard.

.
.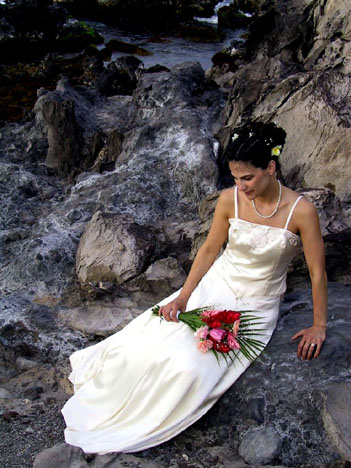 ..
Still have questions? Please ask!
eMail
.
Seventh Wave PhotoGraphics

.