.
BRUCE WHEELER's
SEVENTH WAVE PHOTOGRAPHICS
"People and Event Photography Pricing Information"
`
I'm doing business as usual! Please consider me for all of your Maui photography needs!

`
Providing casual, fun and affordable professional outdoor photography sessions for Individuals, Couples, Families, Vacation Photos, Reunions and Tribal Gatherings, Events, Marriage Proposals, Engagement Announcements plus Senior Class and Graduation Pictures.

`


Aloha! Welcome to my Maui Family & Event Photography site, I'm happy you're here! A native to Washington, DC, I've been an Island resident since 1983, and a professional photographeR here since '99. Some of you have come to this page via referrals on social media, notably Facebook, and travel related sites like TripAdvisor and Yelp, among others, so thanks for taking the time to check me out.
.
I'm an "older" gentleman with an offbeat sense of humor that my many happy clients find endearing (so I'm told), licensed by the State of Hawai'i and fully insured. As a pro for the past 22+ years, I dress professionally, and I conduct myself in a professional, but light-hearted manner, an important factor in capturing you at your very best!
.
Again, mahalo nui loa - thank you very much - for your interest in my photography, your satisfaction is my prime goal, so please allow me the opportunity to satisfy your special Maui photography needs,

Much Aloha! ~ Bruce Wheeler

.
= P R I C I N G =
Please go here for Wedding and Ceremony Photography Info

> > FURTHER DETAILS HERE < <
Package 7W-1: *Your choices of up to 25 Photoshop-enhanced pictures presented in a privately-linked online gallery* With this package l often take (up to) 300 or more pictures during a typical one-hour session. The most suitable images from among the total number taken will then be uploaded, full size, to a "privately linked" SmugMug proofs gallery, usually within 72 hours of your session. You can then choose up to 25 images for custom digital enhancements. The "25" enhanced pictures will then be uploaded, at maximum resolution, to an all new online gallery. The gallery with the proofs will remain available for about two months from the date of your session, but the new gallery, with your enhanced pictures, will remain online for one year.
`
1 or 2 persons, $250. 3 to 9 persons, $275, 10 or more, $300
A 4.167% Hawai'i GET tax will be added. Booking Application / Agreement Form
~ Add $26.04 for sessions held on Sundays and $52.08 for all Major Holidays

---
Package 7W-2: *Your choices of up to 50 Photoshop-enhanced pictures presented in a privately-linked online gallery* Essentially the same as Package 7W-1, but a better option for larger parties as it allows for your choice of up to 50 Photoshop enhanced photos from as many as 400 taken.
`
1 or 2 persons, $275, 3 to 9 persons, $325, 10 or more, $350
A 4.167% Hawai'i GET tax will be added. Booking Application / Agreement Form
~ Add $26.04 for sessions held on Sundays and $52.08 for all Major Holidays

---
Please see my work on

Kama'aina Rates offered, please ask.

Have something special in mind? Run it by me, I'm always open to
suggestions! For meetings or special events coverage, let's talk.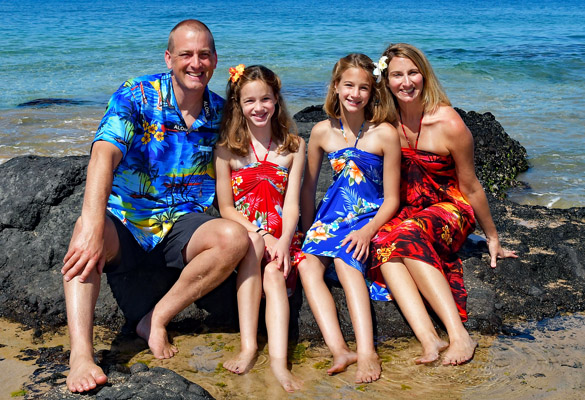 .The Wadholm 'Ohana, 2017 ~ Click on the picture for their great online album!
.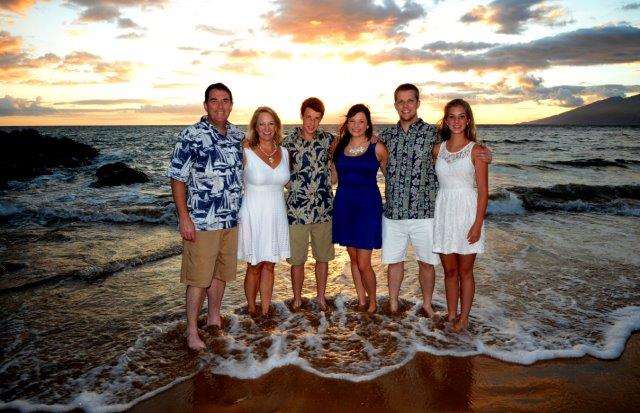 The Decker 'Ohana at Palauea Beach ~ Summer 2013
.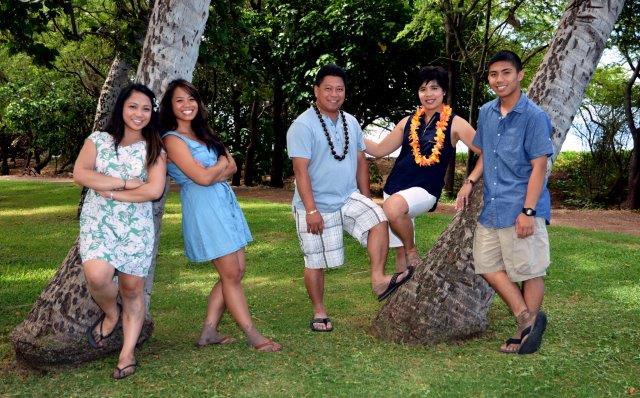 The Calbonero 'Ohana at Launiupoko Park ~ Summer, 2013

~ FURTHER DETAILS~
Most sessions will run for (up to) one hour, or a shade more. During that period your photographer will take as many "creatively composed and photographed" pictures as possible while he's together with you, in all conceivable groupings, configurations and locales within the general area where your session takes place. The total pictures yield often runs from "about" 150, to well over 300 (the actual number is largely dependent on the number of participating persons, especially so with young children). Please go here for a more detailed overview of what to expect when you book me for a session.
.
---
So, to confirm your session in my calandar I'll need a completed Booking Application/Agreement Form, and arrangements made for a required 50% (pre-tax) minimum down payment. (Full payment is required for short notice bookings - within three weeks of your session's date.) Any balance due will be charged at the time of your arrival on island (visitors), and on day of service (residents). Pricing is subject to change without notice, however all confirmed bookings will be honored at the original agreed upon amount if desired.
.
Additionally, here are links to my two most popular session locations: Charley Young Beach, in Kihei, South Maui, and In West Maui, near Lahaina, Launiupoko Beach Park. These are my suggestions, but I'm open to yours. Restrictions: The State of Hawai'i Department of Land & Natural Resources (DLNR) strictly prohibits commercial photography anywhere on North or South Ka'anapali Beach, or at "Big Beach," aka State Park at Makena. I am a "commercial" photographer.
.
---
Meet Time Information:
.
Morning Sessions generally run for (up to) one full hour, commencing at about 9 or 9:30 - depending on the location and time of year - as the ambient light is at its best then. Evening sessions usually begin some 45-minutes to an hour before actual sunset, depending on the size of the party. Note: Strong tradewinds and/or passing showers are more prevalent at pre sunset times than in the morning. Think blowing hair!
.
Need references? Please inquire about me at the TripAdvisor Maui Travel Forum
All Package One pictures will be available in an Online Album by default, but you may opt to have them put in Dropbox, or uploaded to a "cloud" or ftp server of your choosing instead.
WHAT TO WEAR?
I like it when my subjects dress to reflect their own personalities, and I prefer bright, bold primary colors, especially Hawaiian prints. Some families like the "uniform" look; matching white/tan tops/bottoms or denim with white-or-pastel tops, etc. I, for one, am not very fond of uniforms. Whatever you wear, I urge you to dress in a manner that, when you look at your pictures in years to come, you'll be very pleased with how good you looked in them.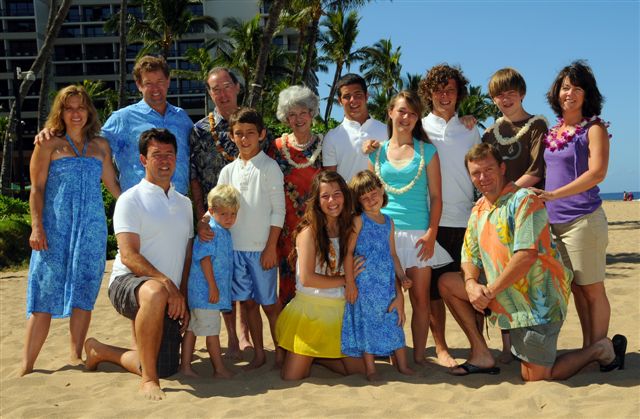 I love how this family is dressed!
---
An added bonus: I'll also provide you with a link to my Captured Maui Moments online compilation of 200+ digital pictures that I've taken since 1999. Included therein are a great variety of floral close-ups, "helicopter shots," gorgeous beaches and scenic vistas, active and inactive volcanos, spectacular sunsets, hot rod cars, Japanese folk dances, Willie Nelson and a whole lot more! (And, you can download every one of them, if you wish!)
---
Your questions and comments are most welcomed and encouraged!
.
Mahalo nui loa - thank you very much - for your consideration of my services.
.
= A L O H A=
.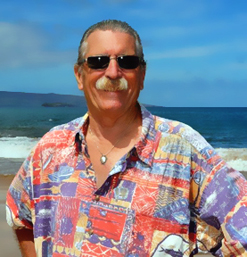 Bruce Wheeler, Owner/Photographer
.
Seventh Wave PhotoGraphics
Post Office Box 817
Pu'unene (Maui) HI 96784
.
(808) 244-1167 - my office landline
Cell # provided to confirmed clients.
.
angel @ mauigateway . com


.

---
Relevant Links...
.
Photography Booking Application/Agreement
.
The "Family Pictures" Gallery
.
The Seventh Wave Home Page
.
The Maui-Angels.Com Directory



.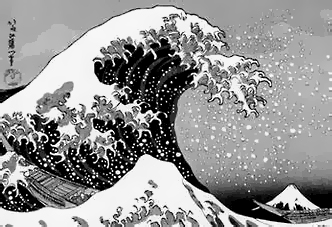 .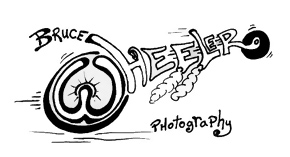 My Maui Drag Racing Photography

© 2022 All Rights Reserved
Pricing revised July 26, 2022
Page created 09-05-13