Bruce Wheeler's "Original"
W H E E L E R D E A L E R
AA/Fuel Dragster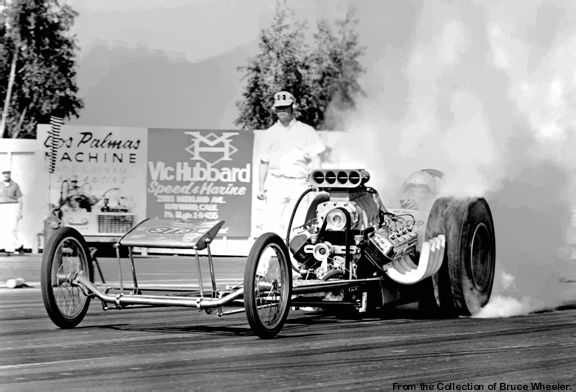 "In the beginning..." Ed Pink's Old Master
Fremont, 1965 - Mike Snively driving.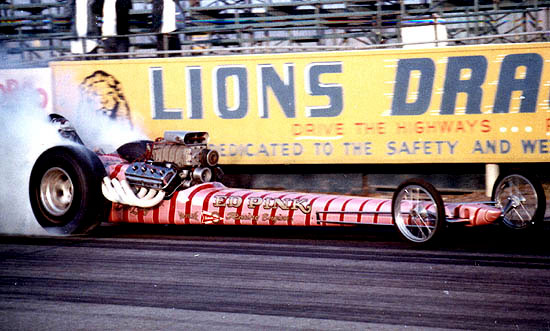 Now Bruce's car, Tom "The Mongoose" McEwen tesing tires - December, 1966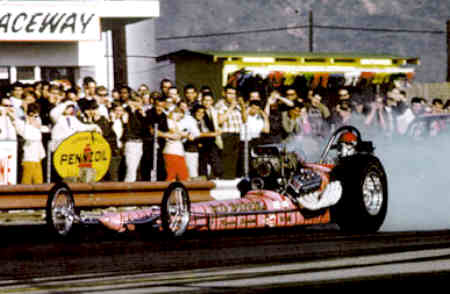 Al Friedman's first-ever ride in a dragster, New Year's Day '67 @ Irwindale Raceway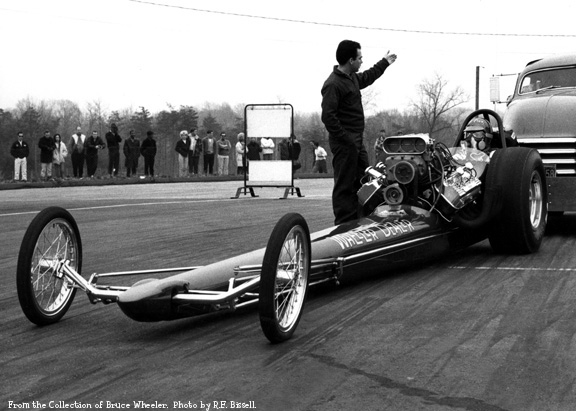 "And now, Ladies & Gentlemen, The Wheeler Dealer!" ~ March, 1967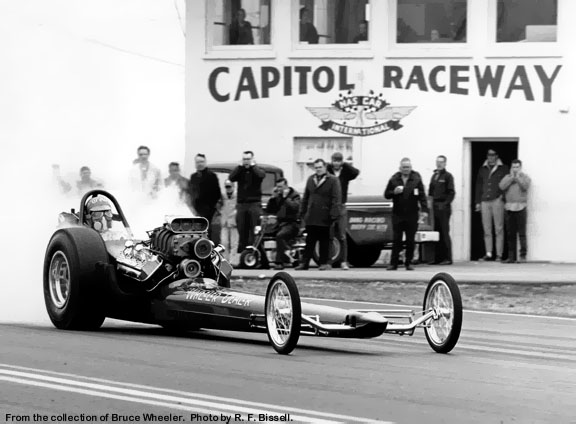 Al's first licensing pass - March, 1967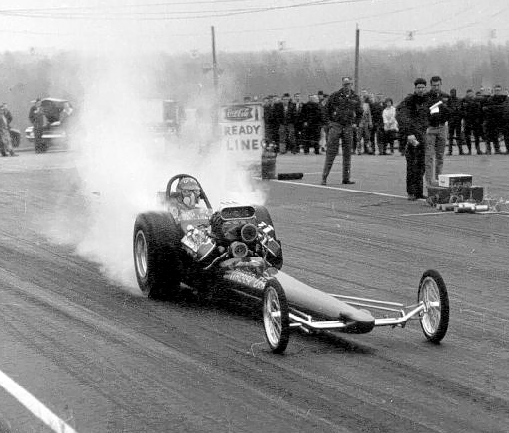 Al's second licensing pass...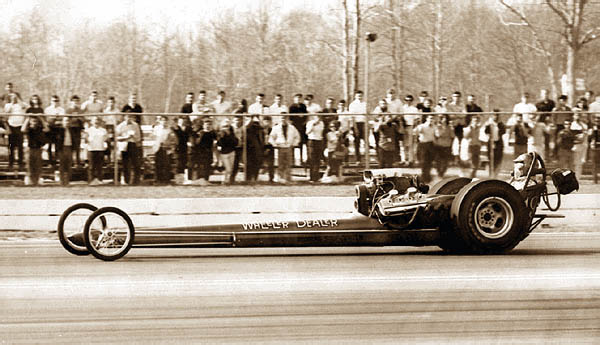 Englishtown, April, 1967. We won the event and set both ends of the track record.

At Englishtown vs. Richie Bandel who just red lighted in the far lane.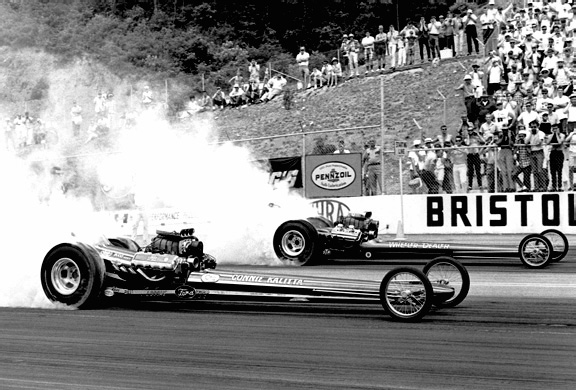 1967 Springnationals. Connie won when Al got crossed up in the oiled-down left lane.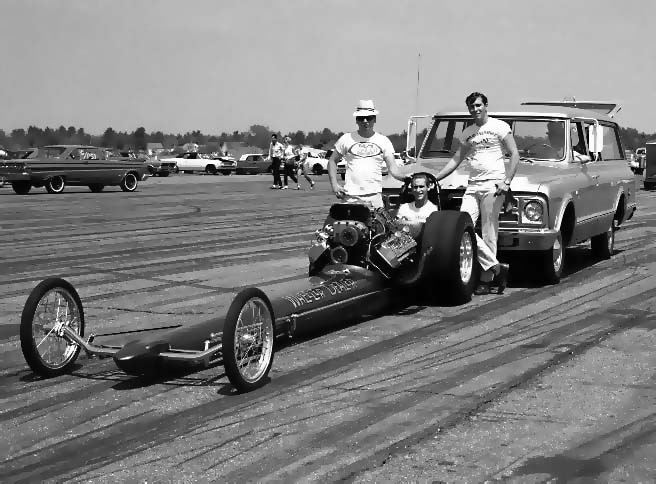 Sanford, Maine above and below - June, 1967 Joe Walker (in hat), Al Friedman & Bruce.
-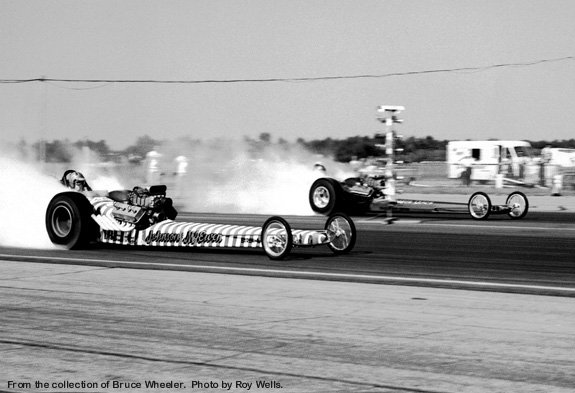 Racing "Surfer Hank" Westmorland (near lane) in the Johnson & McEwen "Beachcomber" AA/FD from California
-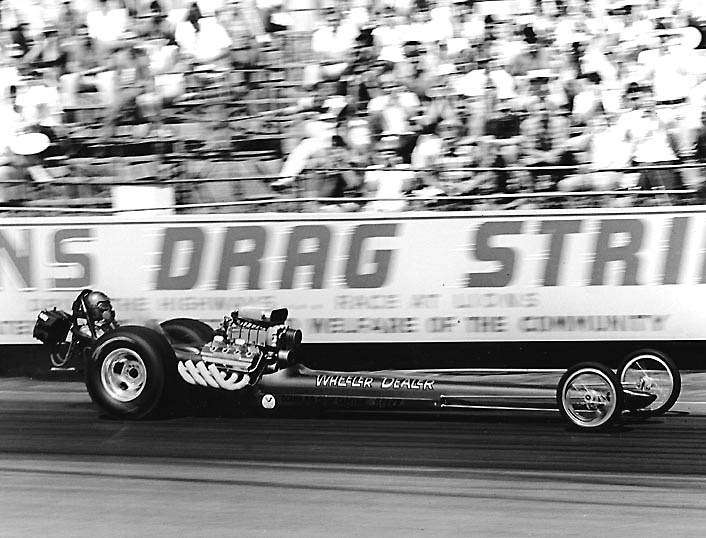 Above and below; qualifiing #1 (7.08 / 225.00) at Doug Kruse's inaugural 64-car PDA race, July 15, 1967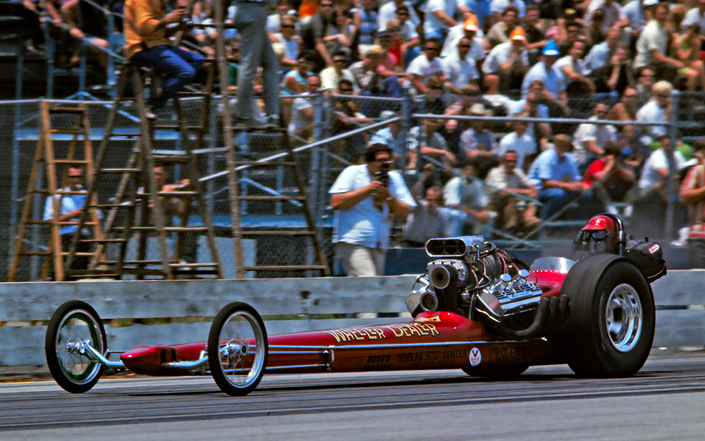 Above photo by Don "Wavemaker" Prieto
-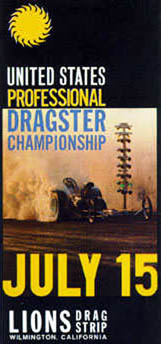 -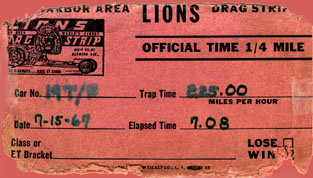 -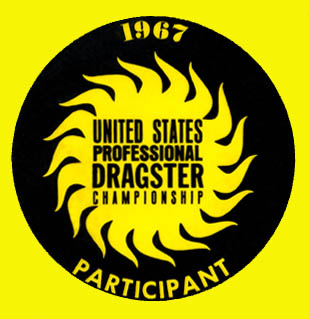 -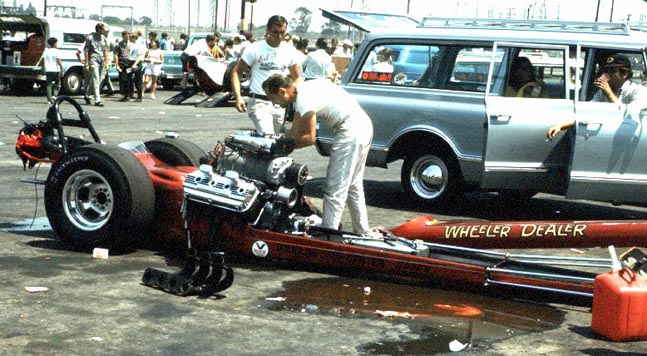 Saturday afternoon at The Beach, Dickie Burgess
working over the motor, Bruce headed his way.
-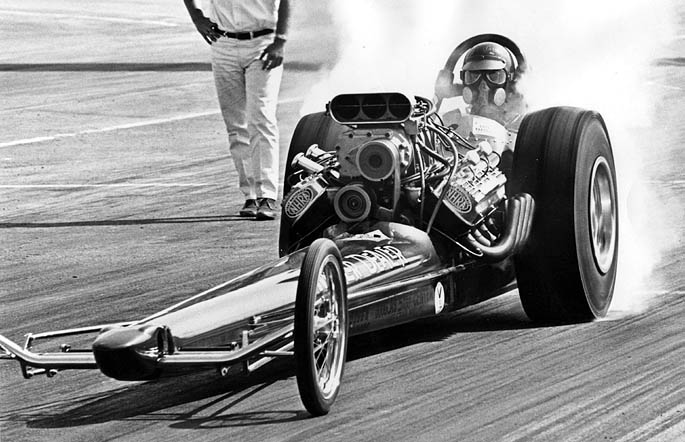 Qualifying #22 (7.15 @ 221.12) at the 13th U.S. Nationals, Indianapolis Raceway Park, 1967
(Garlits qualified #23 and won the event with a 6.77, we tied Top Speed of Meet @ 223.88.)
-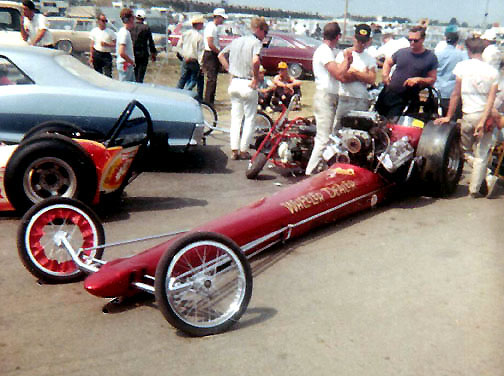 Pit scene at IRP, 1967. Al fouled while running The Snake in round
one but still posted the 5th quickest pass of the event @ 6.83.
-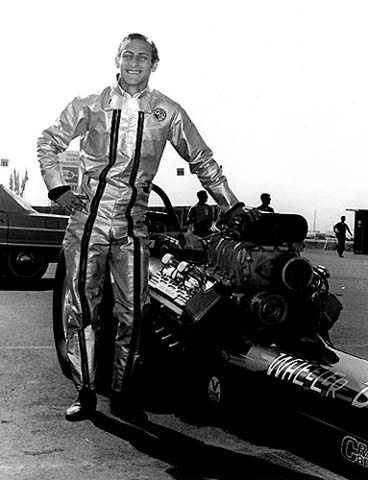 The late Al Friedman, Drag Racing Magazine's Rookie of the Year 1967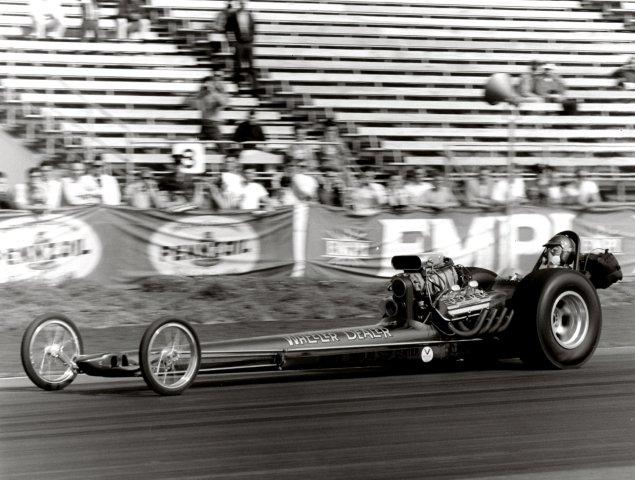 On a qualifying pass at the March, 1968 Professional
Dragster Association Championships at OCIR.
-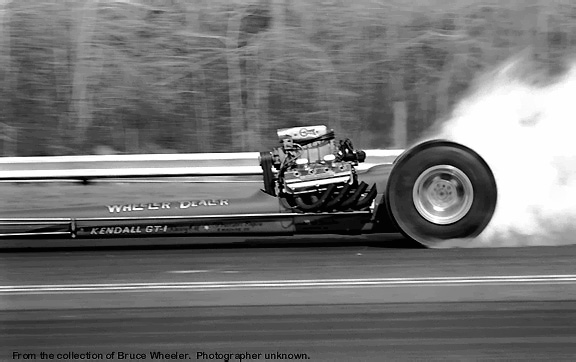 Bub Reese smokes 'em at Capitol Raceway, 1968
-
.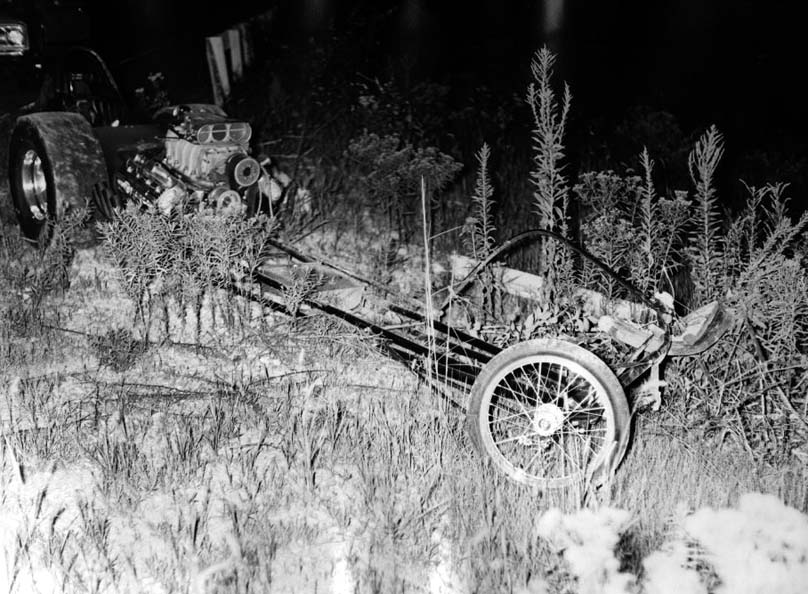 Oops!!! Wednesday, August 28, 1968 ~ Cecil County, Md. Broken car and spirits, but Bub was OK! About five days
later, this motor made it to the semi-finals at Indy, in Jim Busby's "Beach Boys" car, driven by Dwight Salisbury.
.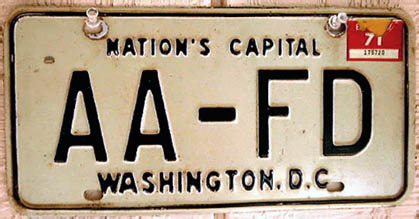 -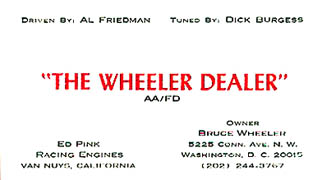 .
170" Don Long Chassis (built late 1964)
Tin by Tom Hanna - Upholstery by Tony Nancy
1967 paint & lettering by Todd Pendleton
1968 paint by George Cerney, "words" by Kelly
392" '58 Chrysler Hemi by Ed Pink Racing Engines
-= 98% CH3NO2 in the tank =-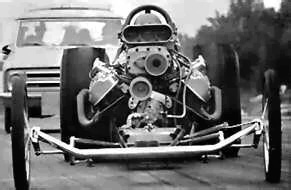 Owner: Bruce Wheeler
Driver(s) Al "The Jersey Jew" Friedman & Bub Reese
Motor tuned and tweaked by Dickie Burgess & Bub Reese
Crew: Joe Walker, Bill Summers and "a cast of several."
Best quarter-mile times: 6.83 E.T. (Indy, 1967) @ 225.00 MPH (LIONS, 1967)


Go HERE for a page of Wheeler Dealer 2 photos...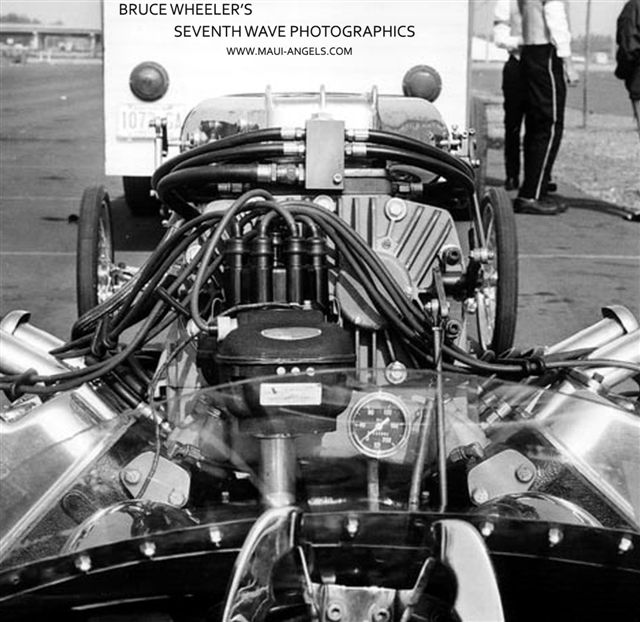 .
Page design:
Seventh Wave PhotoGraphics
March, 2004
"Some" of the photos on this page are by Leslie Lovett, R. F. Bissell, Jim Kelly, Brian Beattie, Alan Earman
& Roy Wells Jr., all talented artists who have greatly influenced my passion for photography over the years.
.
Click on any pic to return to the Wheeler Dealer home page.
.
www.maui-angels.com
e-mal
.