`
The All Ways Maui'd Main Page | Package Details with Optional Add-On Selections | Maui Angels.Com Index | Contact Us | Links
`
ALL WAYS MAUI'D
Weddings, Ceremonies & Photography
". . . always with Aloha!"
`
CLICK HERE FOR HAWAI'I MARRIAGE LICENSING REQUIREMENTS AND RELATED INFORMATION
.



`
Me ke Aloha - with our love, e komo mai - welcome!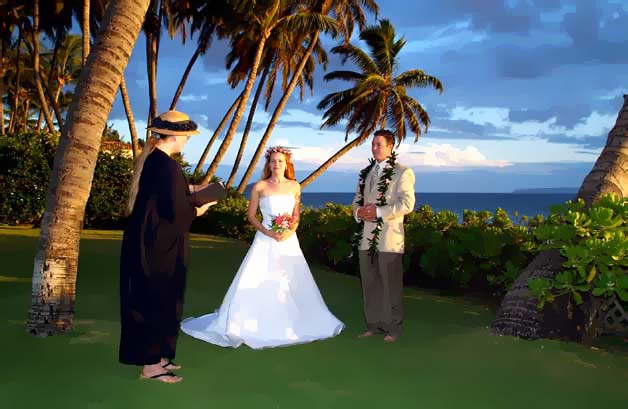 = sorry, the above picture was taken at a private property that's no longer available to us =
.



.
.= ABOUT OUR CEREMONY PACKAGES=
.
__________ Each All Ways Maui'd Package Includes the Following ___________
1. The services of our insured & licensed non-denominational Minister/Officiant/Coordinator for personalized Weddings; Vows
Renewals; Civil Unions, Baby Blessings; Business/Property/Home Blessings or a "customized" ceremony of your choosing.
2. A Commemorative Ceremony Certificate and a nicely printed Keepsake Copy of your actual Vows (or other specific readings).
3. A complimentary Beach Ceremony permit for up to 10 persons; the Bridal party, all guests and any participating service
providers. (Note: All "public locations" are subject to our approval. Please go here for further "Beach Weddings" info.)
4. Our complimentary help with getting your Hawai'i Marriage License (required for legal weddings only, not for Renewals of Vows).
5. Your choice of a personalized, non-denominational Christian, Spiritual, Romantic or "Civil Style" ceremony. (Our ceremony offerings
generally include Hawaiian themes, but Jewish, Celtic, Nubian or other appropriate themes - alone or in combination - are available.)
.
Here's a link to our "getting started" web page, a helpful by-the-number
overview of your ceremony's planning process. It's really very easy!
.
PLEASE GO HERE TO REVIEW OUR SIX ATTRACTIVE CEREMONY PACKAGES AND RELATED OPTIONS
.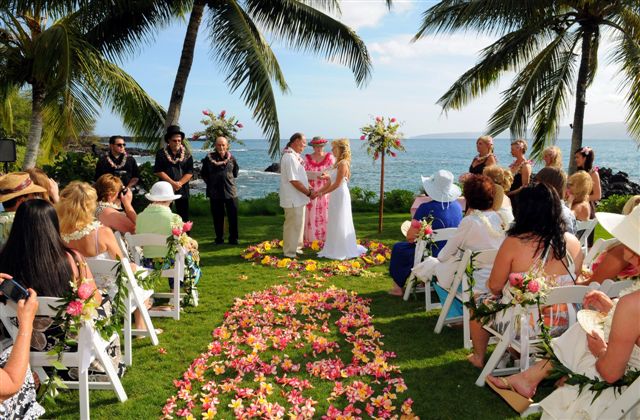 ... Rev. Kolleen officiating at a wedding at a Makena estate ...
.
~ Also consider customizing your event with some of the following "places" and "things". . .
.
Private Sites: Beautiful Hawaiian Gardens (some with romantic Gazebos); a rustic Hawaiian Chapel; an Upcountry Lavender Farm; a charming Plantation-era Estate and many others . . .
.
"Things": An Online Video of your ceremony a Dove Release; In-room Hair and Makeup; Limos; Musicians and Hawaiian Singers; the blowing of a Pu - conch shell - and a Rental Tripod for your Phone or GoPro.

Have questions? Please call Rev. Kolleen @ (808) 244-1167
.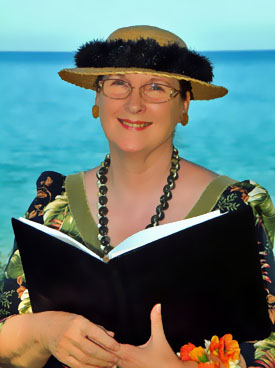 .



.
All Ways Maui'd Main Page | Ceremony Booking Application | Expanded Package Details with Optional Add-On Selections | Maui Angels.Com Index Page | Contact Us | Links
.



.
NOTE: OUR SERVICES ARE SOMETIMES BOOKED THROUGH "OUTSIDE VENDORS."  IF YOU DID NOT BOOK YOUR CEREMONY DIRECTLY THROUGH US, YOU MAY NOTE SOMEDIFFERENCES BETWEEN WHAT WE OFFER "IN HOUSE," AND WHAT THE OUTSIDE VENDOR MAY HAVE ARRANGED FOR YOU.  WHILE WE MAKE EVERY ATTEMPT TO ASSURETHAT THERE ARE VERY FEW DIFFERENCES, IF ANY, WE CANNOT MAKE ADJUSTMENTS IN EITHER SERVICES OR PRICING ONCE YOU'VE ACCEPTED THE TERMS SET FORTH BY THE "OUTSIDE PERSON" WHO BOOKED YOUR CEREMONY. THANK YOU FOR YOUR UNDERSTANDING IN THIS REGARD.
.


.
HAWAI'I MARRIAGE LICENSING
.

It's easy to marry in Hawai'i, there are no medical tests or residency requirements for weddings. However, you will need the following; a valid Hawai'i marriage license

(info below) and a State licensed minister/officiant to perform your ceremony (neither required for a Renewal of Vows ceremony). We'll steer you in the right direction to get your marriage license application, and arrange for an appointment with an official licensing agent to validate your license.

.

Age 18 is the legal minimum age to marry in Hawai'i without written permission. Those ages 16 or 17 may wed if they have permission in writing from both parents or a legal guardian. A bona fide birth certificate is required for those 18 and under. Anyone age 19 or over will simply need a valid photo I.D. (Note: If you've been widowed or divorced, you will need to provide the marriage licensing agent with all relevant "names, dates and places." No formal documentation is needed. Exception: if your divorce, or the death of your spouse was within 30 days of your Hawai'i licensing appointment, you will need to furnish like proof - a termination of marriage/divorce certificate or death certificate.)

.

The marriage license fee is $70.00. Once your license has been issued it's valid for 30-days, anywhere in the state.

It's your responsibility to take the license with you to your ceremony, and to give it to the minister or officiant who'll be performing your wedding prior to the actual start of the ceremony.

.

* For additional/specific weddings information not covered here, contact the State Department of Health Marriage Licensing Section in Honolulu:

State of Hawai'i
Department of Health
Marriage License Section
P.O. Box 3378
Honolulu, Hawai'i 96801
Phone: 808 586 4544
Mon - Fri ~ 8 AM - 4 PM
.
Go here for a marriage license application.
.
Civil Unions are also an option for both same gender and opposite gender couples.


.
~ HAWAI'I MARRIAGE LICENSING AGENT, ISLAND of MAUI ~
.
= SHERILYNN TAKUSHI =
stakushi@mauiworld.com
~ 808 276 6919 ~
.


.
Please Go Here to Contact Us
.


Page Design and Photos by
Seventh Wave PhotoGraphics
Contents © 2001/2022 ~ All Rights Reserved
.
Prices & Packages are Subject to Change Without Notice
Page Content Revised 05.16.22 - Package Prices as of 01.01.17
A L O H A !
All Ways Maui'd Main Page | Booking Application | Package Details with Optional Add-On Selections | Maui Angels.Com Index Page | Contact Us | Links