We are doing business as usual! Please consider us for all of your Maui Wedding or Renewal of Vows needs!
.
In this time of COVID-19, our hearts go out to all who are struggling as a result of this terrible disease, especially
those who've been infected with it, and the families of those who have passed as a result. (And, with many thanks,
too, for all of the Angels on the front lines who are so selflessly helping!) May God bless and watch over us all!
~ Rev. Kolleen & Bruce Wheeler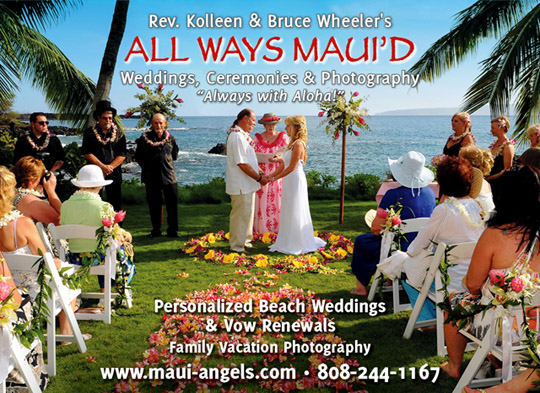 .
. . . Aloha from All Ways Maui'd Weddings, Ceremonies & Photography . . .
.

Mahalo nui loa - thank you very much - for your interest in the ceremonies and related services that we offer here in beautiful, romantic Maui. Beginning when you first contact us, until you say "I Do," it would be our distinct good pleasure to be of assistance to you in every way possible.
.
Below you will find some general information about us and our services, along with links to selected pages at our website which, we believe, should help a lot with your decision making process.
.
** First off, please allow me a moment to introduce ourselves to you ~ I am Rev. Kolleen O'Flaherty Wheeler (or simply Kolleen), the Officiant/Coordinator for All Ways Maui'd Weddings & Ceremonies. My husband of 35 years, Bruce Wheeler, is the principal photographer for Seventh Wave PhotoGraphics, our in-house photography service. We're a "Happily Maui'd" couple who have been blessed to call Maui home since early in 1983. We specialize in "smaller," more intimate weddings, vow renewals and assorted other blessings in versions that include Non-denominational Christian, Spiritual or Simply Romantic themes. Bruce is also our webmaster, so you can find many examples of his award winning photography throughout our rather unique maui-angels.com site. (We are not mauisangelsweddings,com)
.
** Our site's table of contents page should help you a lot with your navigation around it. However, following are a few links that will take you directly to some of the more important ceremony related pages to be found; including what's required to get married in Hawai'i, our detailed ceremony packages page and a page listing our miscellaneous (optional) ceremony enhancing add-on (à la carte) selections.
.
** In addition to performing your ceremony, we gladly offer our assistance with all essential coordination matters including (but not limited to); the setting of your licensing appointment (required for "legal" ceremonies), help in selecting the most appropriate public location for your ceremony, obtaining the State land use permit (when required), the booking of a private ceremony location (if desired), plus the making of all arrangements for (optional) videography/web casting, music/musicians, deluxe florals, dove and/or butterfly releases, etc.
.
** You will no doubt find answers to many of your "Getting Maui'd" questions at our Frequently Asked Questions page. More questions? Please contact us . . .
.
** When the time comes to begin making formal arrangements for your ceremony, please follow these steps:
.
1. Once you've chosen your preferred ceremony date, time and location, please call us at 808-244-1167 (or email us) so that we can confirm the availability of that date and time in our schedule. (If need be, we will be happy to put a 48 hour hold on an available date/time/location pending a final decision by you.)
.
2. Then, complete our Booking Application/Agreement Form and send it on to us via email, postal mail (time allowing), scan (.pdf) or fax to 808-242-8019. Note: If you choose to email your application to us, please fax, scan or mail the signature page/s as we are in need of your actual signatures, too At this point - if it hasn't been arranged for already - we'll set your appointment with a licensing agent.
.
3. A 50% (minimum) down payment - in U.S. funds - is required to guarantee your booking, to be arranged for at the time you submit your application/agreement. Note: Any remaining balance due must be paid not later than ten (10) days prior to your ceremony's date. (Down payment amounts may be found on our packages page.) Also, It's OK to fax your credit card info, but it's up to you whether you choose to email it, or not. We would much prefer that you call us with your bank card information, or fax it to 808-242-8019 - along with your signed application - whatever works the best for you.
.
4. Upon our receipt of your completed application (and down payment) we will issue you a confirming statement via return email, and, time allowing, we will also send you a nice variety of sample ceremony scripts and vows readings for you to pick and choose from. (You're very welcome to include readings of your own, to share with each other during your ceremony.)
.
We sincerely hope the above information has been useful, and that it's answered many of your questions. However, please don't hesitate to email (or call us) with any other questions and/or concerns that you may have. We look forward to hearing back from you, and to being of service to you on our truly wonderful Island, "...always with Aloha!"
.
Aloha ke Akua, Kolleen . . .
.
Rev. Kolleen O'Flaherty Wheeler ~
All Ways Maui'd Weddings, Ceremonies & Photography
.
Bruce Wheeler ~
Seventh Wave PhotoGraphics
.
"Once Maui'd, Always Maui'd " ~ Rev. Kolleen

Please see pictures by our
photographer, Bruce Wheeler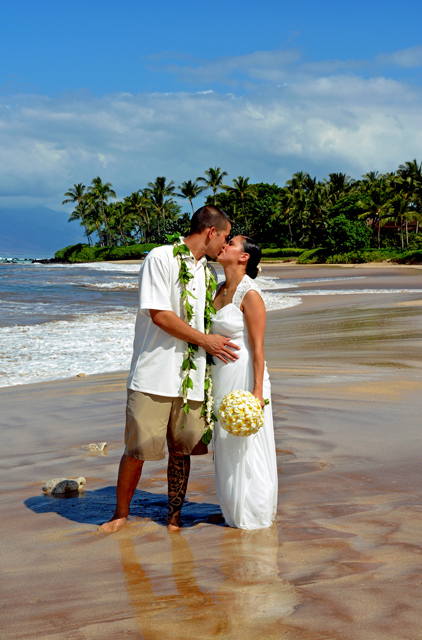 .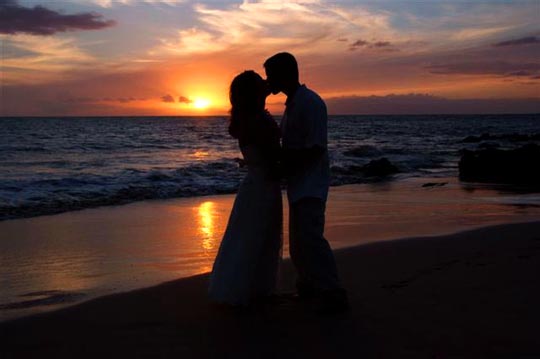 .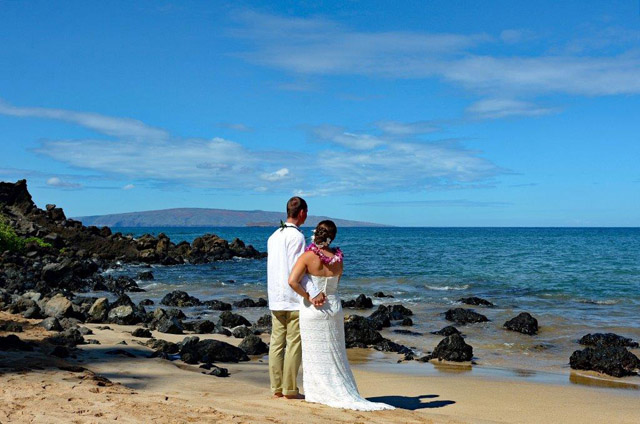 At Palau'ea Beach, Makena
For further information, please call us . . .
1-808-244-1167
Go here to view a YouTube photo collage of a 2009 wedding that we created for a lovely Canadian couple, Valerie & Brett Duzita
Ceremony and coordination by Rev. Kolleen, photography by Bruce
.
Here's a link to another YouTube photo collage of our friends, Mendy & Cole's 2016 wedding at Charley Young Beach
.
Go HERE and HERE to see a nice selection of Bruce's wedding photos.
.
SEE A RACHAEL RAY SHOW VIDEO OF A "SURPRISE" ALL WAYS MAUI'D WEDDING
PLEASE NOTE: We keep all of our bookings organized by date, so please include your desired date in the subject line of all emails or refer directly to your ceremony's date when you call - Mahalo!
.







.
Seventh Wave PhotoGraphics | All Ways Maui'd Weddings, Ceremonies & Photography | The Maui-Angels.Com Index of Pages | Contact Us | Links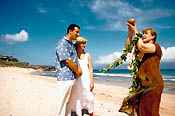 Page content revised 01.13.21