All Ways Maui'd
Weddings, Ceremonies & Photography
.
~ FREQUENTLY ASKED QUESTIONS ~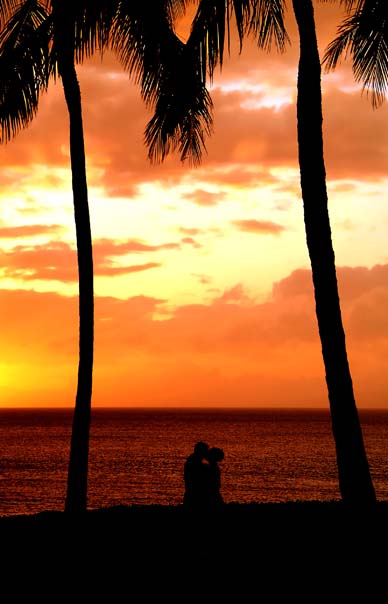 WHEN ARE THE BEST TIMES TO COME TO MAUI? Any time! "Maui No Ka Oi!"
Maui is the best! We have an ideal climate year round, with temperatures varying
"about" 20-degrees between winter and summer - from the low 70's to the low 90's
(It's never broken 100-degrees here, and the coolest temperature on record - at
sea level - is 48-degrees.) The warmest months are August and September. The
rainy season generally corresponds with the fall and winter months, but rainfall at
any time of year is very unpredictable. December through May is humpback whale
season in Hawai'i, and the quieter, less busy periods include post-Easter through
early July, and mid-September through mid-December.

WHAT TYPES OF CEREMONIES and SERVICES DO YOU OFFER? Weddings,
Renewals of Vows, Baptisms & Christenings. Also, memorial services for people
and pets, plus blessings of events, businesses, homes and property. We also
perform ceremonies celebrating life's very special events and major holidays. Our
ceremonies are custom-tailored to your preferences & feature non-denominational
Christian, non religious spiritual, modern romantic and "civil" themes, all combined
with "Island elements," if desired. Upon our receipt of your completed application
form and down payment, if time allows, we will gladly provide you with a selection
of sample ceremonies for you to choose your vows from, at your leisure.

CAN WE HAVE A "TRADITIONAL" HAWAIIAN CEREMONY? Prior to the arrival of the
first Europeans in the "Sandwich Islands," late in the 18th century, native Hawaiians did
not marry in a "traditional" manner. In fact, it's not known if "conventional" marriages
were practiced at all pre-discovery. It was only with the influx of missionary families,
in the early 1830's, and the inevitable spread of Christianity, that weddings as we
know them were performed here. And - of course - those early ceremonies were
very much like today's. So, what makes for a "Hawaiian" ceremony? Chanting of
meles, live music, hula, lots of tropical flowers & a real sense of "Aloha Spirit."
If this is what you seek, we can help...
Our ceremonies generally include Native Hawaiian themes and language,
but these elements are optional, and may be omitted at your discretion.

DO YOU PROVIDE A LICENSED MINISTER? Yes, our Rev. Kolleen O'Flaherty
Wheeler is a Hawai'i-licensed (#96-378), non-denominational Christian minister.
She is a member of the Maui Wedding Association, the Maui Wedding Network, the
Hawai'i Visitors & Convention Bureau, the Maui Chamber of Commerce and the Better
Business Bureau. She's licensed to perform ceremonies on all of the Hawaiian Islands;
however, additional transportation charges will apply for ceremonies held on islands
other than Maui. In the event that Rev. Kolleen cannot perform your ceremony
we will provide another qualified, licensed minister to take her place.
( All Ways Maui'd is fully insured. )

CAN OUR HOMETOWN MINISTER PERFORM OUR WEDDING IN HAWAI'I?
Your minister may perform a wedding ceremony in Hawai'i if he or she obtains a temporary,
one-time use permit from the Marriage License section at the State Department of Health.
Click here for Hawai'i Dept. of Health contact information.

WHAT ARE YOUR FEES? Our fees for "very nice" ceremonies begin at $225,
and include assistance in arranging your marriage license appointment (needed
for weddings, only), assistance in locating a ceremony site, performance of the
ceremony, a formal copy of your ceremony for you to have, a keepsake wedding
certificate of your choosing, and help with the coordination of all other simple
arrangements you may require. (Please see & consider our list of packages.)
We offer a half-hour, in-person consultation at no charge, if desired. A fee of
$75/hour will apply for any additional services (not included in our packages),
such as additional consultation time, touring of ceremony locations, rehearsals,
meetings, etc. A 4.166% Hawai'i General Excise Tax will be applied to all
additional fees not included in our published package prices. All prices are
subject to change without notice.

HOW SOON SHOULD WE BOOK OUR DATE and WHAT ARE YOUR PAYMENT
REQUIREMENTS? The best "professionals" are always in demand, so it's to your
advantage to book your ceremony as far in advance as possible. This will allow us to
hold your date and time in our busy schedule, while allowing enough time to arrange
for the remainder of your ceremony's needs. It's best that you call to 'pencil in' your
date. We'll then ask that you forward to us your completed Application/Checklist
from which we will then generate your Ceremony Service Agreement. You will then
return the signed Agreement to us, along with a (non-refundable) down payment.
This confirms your ceremony in our schedule. The balance, along with any fees for
additional services or products, will be due 14 days prior to your ceremony date.
Full payment is required immediately for ceremonies booked within 21 days of the
ceremony date. Payment may be made in US$ by cash, check, money order + all
major credit cards. All prices are subject to a 4.166% Hawai'i General Excise Tax.
In the case of cancellation, due to illness or emergency only, all or part of the paid
balance, excluding the non-refundable down payment, may or may not be refunded,
or credited towards a future date, based upon the discretion and payment criteria
of the minister/officiant, coordinator, vendors, resort/property and/or other service
providers that may have been arranged for.

WHAT TIME OF DAY IS BEST FOR OUR CEREMONY?
We truly prefer mornings, at "about" 9:30 AM (always a better time for photography).
Because of excessive heat and harsh lighting conditions mid-day, we don't recommend
the hours between 10AM & 3PM. Late afternoons are often subject to unpredictably strong
trade winds and/or passing showers.
However, if a sunset ceremony is your only option, we suggest
that we meet you at about one hour before actual sunset.
For daily Maui weather forecasts, and information on current
sunrise and sunset times, check out wunderground.com.
.


WHAT LOCATIONS DO YOU RECOMMEND? For public, outdoor ceremonies,
we prefer the beaches and beach parks found in the sunny Kihei-Makena areas of
South Maui. Some things to consider about ceremonies held at public locations:
sites are available on a first come/first serve basis only, and may not be reserved.
At many popular public locations, more than one ceremony may be taking place
at the same time, so we may have to relocate to a more suitable, nearby site .
Note: alcoholic beverages are strictly prohibited at all beaches and parks.
We strongly urge our couples to consider Kihei's Charley Young Beach, the
closest you can get to "privacy" in a public setting, especially so in the morning.
If your budget allows, we recommend that you consider one of any number
of beautiful private sites. The advantages to this include beautiful settings in
a controlled environment, charming gazebos, tropical water features (including
artificial waterfalls), lush landscaping and the option of moving the ceremony
indoors, if necessary. At many hotels & resorts, a use fee is charged to hold
your ceremony on property. This fee may possibly be waived for registered
guests; however, you should always ask for permission first, regardless.
.
Click Here to Go to Our Page of Wedding Ceremony Site Photos

CAN WE HOLD OUR CEREMONY AT A WATERFALL? Most natural waterfalls
on Maui are located in rain forest areas not easily accessible (and often subject
to "precipitation"). As an alternative, there are a number of private properties and
resorts that have lovely artificial falls, often situated in picturesque garden settings.
Maui has some of the most beautiful beaches in the world, and most of our couples
are quite happy to have their ceremonies upon their golden sands--the perfect
alternative to always unpredictable waterfalls locations.

WHAT HAPPENS IF IT RAINS DURING AN OUTDOORS CEREMONY? We will
first try to use umbrellas, or consider moving to a drier location, or relocate indoors
at your accommodations. In extreme conditions, it may be necessary to reschedule
your ceremony for another day, time allowing.

WHAT IS REQUIRED TO MARRY? For Weddings and Civil Unions all you'll need
is a Hawai'i-issued license & a licensed minister/officiant to perform the ceremony.
- see below for further info -

IS A HAWAI'I MARRIAGE LEGAL WORLDWIDE? Yes, throughout the United States
and in all foreign countries. If you are not a U.S. citizen, you may wish to check with
your country's consul general or foreign office first. Or, telephone the Department of
Health's Marriage License Department at 1.808.586.4544 (in Honolulu) for further
clarification. (There are no known problems for Canadian and U.K. citizens.)

WHAT IS THE MARRIAGE LICENSING PROCESS? Note: Marriage licenses are
not available from the minister or officiant. To request an official Hawai'i marriage
license info "kit," write to the State of Hawai'i Dept. of Health, Marriage License
Section, P.O. Box 3378, Honolulu, HI 96801 or phone them at 808.586.4544. Or,
you can go to the official Dept. of Health website to view information online and
download a (self-printed) application. (The kit also includes an application form
for you to fill out and take with you to your licensing appointment). Tip: Carry
your application with you while traveling in case you and your luggage get
separated. (Your licensing agent also has applications available.)
If you wish to apply for your license on Maui, we will gladly assist you in making
an appointment. A license may be obtained on any island and may be used state-
wide. The license fee is US$70, payable in cash at the time of your appointment.
To obtain your license, you must both be at least 19 years of age, or have written
permission from a parent or legal guardian to wed. A valid picture ID is required
for each person. You'll need to provide your parents' full names, and where they
were born. If you're widowed or divorced, there's no need to bring documentation
but you must know the dates (and locations) of those events. The license is valid
immediately, with no waiting period, and is good for 30 days. You must bring the
license to the ceremony and provide it to the minister/officiant who in turn submits
the signed document to the State following the ceremony. The State will then mail
your fully executed Certificate of Marriage to you within 120 days.

OTHER QUESTIONS? Please ask! It is our desire to make your special ceremony a
treasured memory to last a lifetime, and to provide you with friendly, personal
attention and care "...always with Aloha!"

Go Here for our Ceremony Packages Selections
All Ways Maui'd
Weddings, Ceremonies & Photography
.
Rev. Kolleen O'Flaherty Wheeler
State Licensed and Insured Minister
.
R. Bruce Wheeler
Photographer
.
~ ~ ~
.
P. O. Box 817 - Pu'unene, Maui, Hawai'i 96784-0817
(C) 2015 ~ All Rights Reserved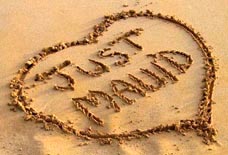 ~
All Ways Maui'd Weddings, Ceremonies & Photography | The Maui-Angels.Com Index Page | Contact Us | Links